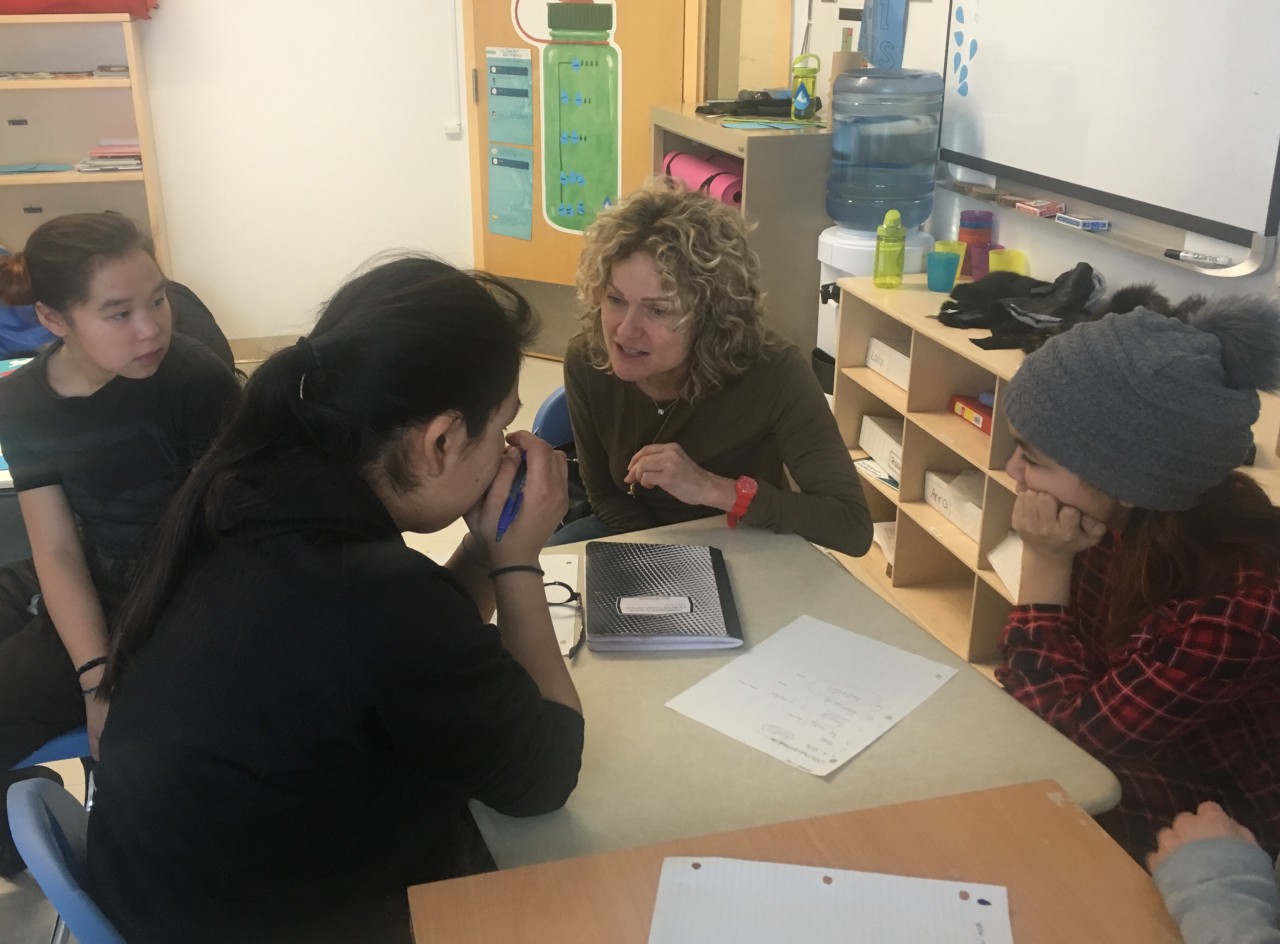 I'm reporting in today from Tukisiniarvik School in Akulivik, Nunavik. I'm here with artist Thomas Kneubuhler, working on this year's edition of Quebec Roots, a Blue Metropolis Literary Foundation project.
Teams of writers and photographers are travelling to six schools across the province of Quebec. We're helping students to use words and photos to capture the communities where they live.
We are working with Edna's senior students. Yesterday, we spent the morning discussing possible topics. Every chapter in the Quebec Roots book, has its own topic, and it's important for the Blue Met team that students come up with their own topics. (In other words, it's not up to us to tell the students what to write or take photographs about!) So far, it looks like Edna's students want to write about the arena, a popular hangout in town. What's interesting is that in Akulivik, the arena is more of a place for the local boys than for the girls. Not that the girls aren't athletic -- in fact, it turns out that many of the girls are into volleyball. And it also turns out that most of the girls love to sew.
The zamboni, the machine used to clean the ice at the arena, has been broken since October. But that hasn't stopped the boys from playing hockey. This morning, I got students to do a group poem called "Zanboni." I'm going to give you a sneak preview -- you'll have to wait until April, when the 2019 edition of Quebec Roots is published, to read the whole poem!
"Junior loves to clean the ice.
Not because it's good exercise,
Not because he likes to clean his house,
But because it means he gets to play hockey."
You know what I love about that stanza of our group poem? That I can hear the kids' voices! Can you hear them too?
Also, before I sign off for today, I want to tell you one more thing that happened this morning. Because we had some spare time, Thomas and I did mini photography and writing workshops with Jill's secondary students. We only had three students in our class -- but it was kind of amazing! Usually, I start with the writing (that's because students tend to be less interested in learning about writing, so I'm like the soup and salad and Thomas is the DESSERT), but we thought we'd change things up, so Thomas did his mini photo workshop first. Dessert before soup and salad!
You should have seen the students' faces during Thomas's workshop -- especially when he showed them photos students took when Thomas and I were here for Quebec Roots in 2009. The students recognized some of their friends.
When it was my turn to work with the students, I talked about the importance of rewriting. And because I know the girls love to sew, I found a way to compare writing to sewing. "DId you ever," I asked them, "have to pull out a stitch and start over?"
A student named Jessica said that that had happened to her many times. "How did it make you feel to have to pull out a stitch?" I asked. Jessica said, "I felt mad." Exactly! Rewriting is frustrating work -- like pulling out stitches when you are sewing a parka. But in the end, it's worth it -- because you get a good story, or a beautiful warm parka!
But you know how I know my mini writing workshop really was a success?! Because at the end, I asked the girls, "Do you want me to give you homework?" (I was only joking.) Then a student named Annie, said "YES!"
Annie, thanks for making my day. Tukisiniarvik School, thanks for the warm welcome. To Edna's students, I hope you learn a lot this week about writing and photography. We look forward to reading and seeing your work. Thanks to the KSB's Amber Douthwright for organizing our visit, thanks to Blue Met's Fréderick Gaudin Laurin for overseeing our work. Here's to words and images!