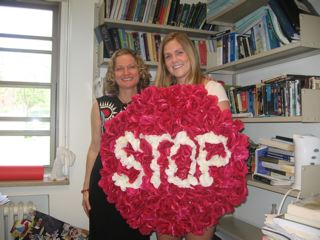 I thought you'd like this picture -- that's me with Megan, one of my students from last semester. That stop sign was Megan's end-of-term project for my "Stuff of Nonsense" class -- the sign is made of cloth roses. Don't you love it?
I've had it over my desk all semester, but since I'll be on sabbatical next term and someone else will be sitting in my spot, Megan had to come collect her project this morning.
So today's a good day to remind you (and me) not to get so busy that you forget to stop and smell the roses, or the salt air, or the grass after it's just been mowed.
I'm about to curl up on the couch with my pile of lipograms. By the by, I'm having a little work done on this website. Look for some bright new changes in the next couple of weeks!