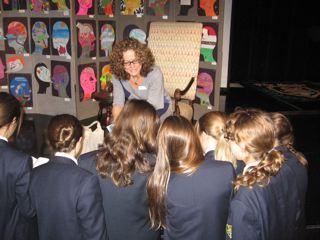 I spent this afternoon at The Study, an all girls' school here in Montreal. My visit started at lunch, when I met with about a dozen bright focused young women who wanted a little one-on-one time with an author. I answered questions and did a couple of super quick writing critiques. A student named Tamar asked me to look at an assignment she'd done. It was a terrific piece of academic writing about Mark Twain's book The Prince and the Pauper. Almost immediately, I could tell that Tamar is talented and enjoys writing. But I hope I gave her a bit of a challenge when I said, "What can you do with the other side of your brain?!!" By that, I meant the more creative side. I have a feeling it's time for Tamar to work on some fiction -- just to exercise another set of writing muscles. (If you're reading this Tamar, be sure to let me know how that goes!)
Afterwards, I did a talk for the senior students. In about an hour, I did my best to tell them everything I've figured out about how to be a writer. Things like READ A TON, WRITE A TON, LISTEN IN A LOT, TAKE NOTES, LOOK FOR INSPIRATION IN THE WORLD AROUND YOU and REWRITE REWRITE REWRITE.
There was time at the end for a few questions. And as I told Mrs. Low, the director of the senio0r school, these young women had really smart insightful grown-up questions. During the Q&A period, a student named Alexandra told us how she likes people-watching at the Atwater Market. I told Alexandra she sounds like a real writer. I love the Atwater Market, too, (I can never be in a bad mood when I'm there!) and I'd love to read a story set there. Alexandra, you should do it!
If you are a regular reader of this blog, you will know that I also love observing students! (It's one of the reasons I enjoy school visits so much!!) Well, today, I caught a student doing something I have never seen before (not even in 27 years of teaching): a student named Latisha, who was sitting in the front row ... slipped off her shoes! I personally like to do that, too -- though I might not have the courage to do it if I was sitting in the front row of an auditorium. I decided it was a good sign -- that Latisha felt relaxed and right at home during my visit.
So thanks to all of the bright young women in today's audience, and to Mrs. Low for having me in, and to head of school, Mrs. Sweer, for introducing me... and to the wonderful team of teachers for preparing their students so well. Also, I should have jotted down the name of the gracious student who thanked me on behalf of her classmates. (Was it Michelle? Let me know and I'll adjust this blog entry.) I had a great time today! Hope the students at The Study did too!