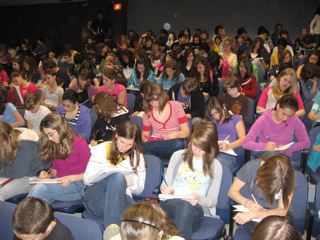 Hello hello dear blog readers,
I've posted a pic from this morning's whirlwind visit to BeaconsfieldHigh School. I worked with 200 Grade Seven students and I managed to get most of them WRITING. (You can see proof in the pic!)
Because I had two hours with the students, I managed to do a variety of things: I talked about where I get my story ideas; I read a little; and as I said, I got them to do some writing. At the end, I left a little time for questions and some students even stayed late to continue chatting with me (here's hoping they didn't end up in detention!).
A student named Sam wanted to know if I ever run out of ideas for when I write my journal every morning. I told him that only happens rarely, but if it does, I always force myself to keep writing -- and sometimes, that leads to interesting surprises. A student named Parker wanted to know if it's hard to stick to my routine of writing every day in my journal. I tried to explain how that's the good thing about a routine -- it ends us becoming part of who we are ... like training for sports. A student named Jade who read my book On the Game wanted to know why the character Yolande also uses the name Tiffany. I told Jade that girls who are "on the game" often use aliuses and that, by giving Yolande a second name, I was able to emphasize the theme of identity in my book.
Another fun thing about today's visit is that a pair of twins named Sage and Keefer came up to say hi after my talk. It turns out they are the nephews of one of my best and oldest friends. (We met at ski school when we were about nine years old!) I saw the twins many times when they were little guys so it was a happy surprise to see them so tall and grown-up looking.
All in all, it was a super fun, exciting visit. Three cheers for the Grade Sevens at Beaconsfield High for being such an enthusiastic, hard-working audience, and to teacher extraordinaire Melinda Cochrane for inviting me in and for getting things organized!
Signed, Happy Writer