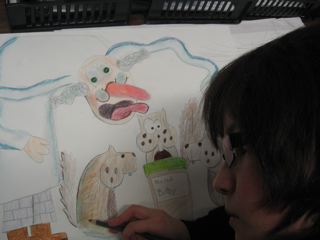 You may remember I've been working on a Blue Metropolis Literary Foundation project called, En Mots et En Images. For the project, I helped students in Carole Blouin's class at Ecole Paul-Bruchési here in Montreal to finish a story begun by another class in Ontario.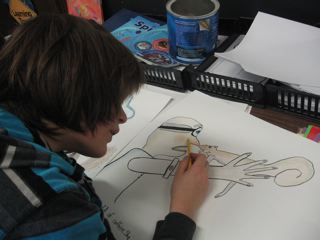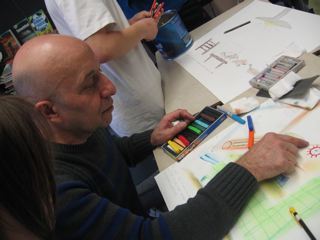 Carole's class is super imaginative and they came up with a story that is so funny it's guaranteed to make readers laugh out loud.
After the text was completed, Montreal illustrator and author Philippe Béha took over. He helped Madame Blouin's class to illustrate their story. Because today was Philippe's last session with the class, I invited myself to come and see their work. AND WAS IT EVER WONDERFUL!!
In today's first pic, you'll see a student named Arnaud working on his drawing. I don't want to tell you too much about the story, which will be on display at this year's Blue Metropolis Literary Festival, but let's just say there are a lot of squirrels in it. In my second pic, you can see Philippe working on one of the student's drawings, and in the last pic, you can see Charlie and his drawing of a squirrel who is on the attack!
Charlie told me he learned a lot about drawing from Philippe: "I learned that instead of just using one colour, we can use many colours to make one colour." Arnaud said he learned about shading. He showed me how he'd added shading to the round parts on his drawing. Arnaud told me one more thing before I left his classroom: "I like writing and drawing both, but I think I like writing a little bit more. I like inventing a subject."
Anyway, if you're in Montreal, don't miss this year's Blue Metropolis Literary Festival. Be sure to check out the stories written and created by students for En Mots et En Images.