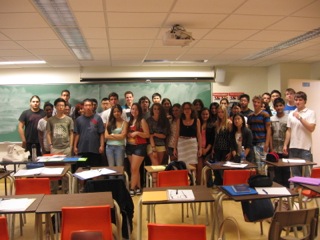 It may be sunny and warm outside, but for those of us at Marianopolis College -- it's officially BACK TO SCHOOL!
In today's pic, you can see me with each of my three classes: Intro. to College English (that's the first pic); and two sections of The Stuff of Nonsense.
It's my first fall in the college since 2009 (I've had three fall sabbaticals in a row that allowed me more time for writing). And I have to admit, I was a little reluctant to go back. It is awfully nice sitting right here at my desk and inventing stories. But you know what? I walked into my first class yesterday afternoon -- and I remembered again how much I love teaching and working with young people.
I remember, too, being a first year student at Marianopolis College (some 35 years ago!!) and how excited I was to be there. I think one of the reasons I enjoy teaching so much is that I get to return to that time with my students.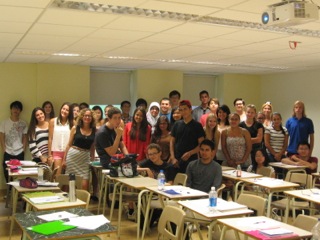 One of the things I told my students is they need to appreciate being at the school -- that we're all privileged to be there. I described to them an elementary school I visited last summer in Kenya. The walls were made of cardboard, the textbooks were old and worn, and more than half of the students had tested positive for HIV-AIDS.
I didn't take a photo of that school because I didn't want to be the gawking foreigner. But I made myself a promise: that I would never forget what I saw and that I'd share the memory with every class I ever taught.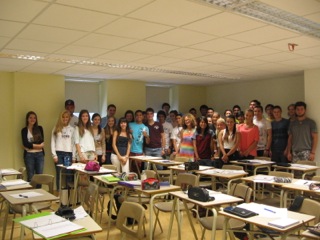 So, I will do my best to take my own advice and appreciate my life at school with my 105 new students. Of course, I cannot deny that my students inspire my stories. So, while my students take notes this semester about class material, I'll be observing them too, listening to how they speak to me and each other, watching their body language (of course!), and trying to imagine what it must feel like to be them.
How else could I ever write books about teenagers?