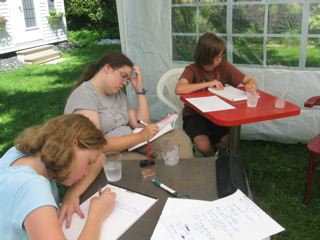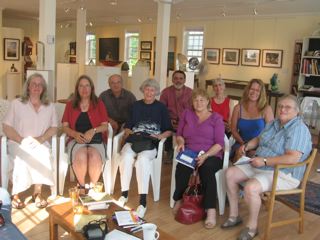 I haven't taught since May so I've got a lot of teaching energy stored up! Last weekend, I taught a workshop for young writers at Studio Georgeville in the Eastern Townships. Then that afternoon, I did a talk for adults interested in the world of writing for children.
I took the first picture here during the morning when my young writers were busy working on their stories. My goal -- for the end of the session -- was that each of them would start a small book project.
The students were wonderful -- only wonderful young people would turn out on a hot summer day to WRITE!!! Dorothy, who's 13, discovered that she is interested in learning more about a family story. Her brother Thomas, who's 11, began a historical novel with a female protagonist. Frances, who is 16 and already a prolific writer (only if you ask me, a little too attached to adverbs!!!), worked on a story inspired by Shakespeare's A Midsummer Night's Dream. And my youngest pupil, Luke, who's only 7 (he's Dorothy and Thomas's cousin), had a little trouble getting started... but when he came up with the idea of writing a horror story, he really took off and managed to write more than all of us combined!
I had fun with the afternoon group, too. And guess what? Frances's grampa came to the session. (I wish I'd jotted down his name, so Frances, if you're reading this entry, send it to me in the form of a comment, okay?) I also met Carolyn Rowell, a poet who teaches at Bishops College, and Brenda Hartwell, who together with Carol, edits a publication called Taproot . Painter Pam Cartwright showed me some of her poetry for kids and though I liked the spirit of her work, I suggested she work on developing specific images and scenes -- just like she does in her paintings.
My friend photographer and filmmaker Louise Abbott came up with the idea of inviting me to Studio Georgeville -- actually she said it was Dorothy who asked whether Louise could find a children's writer to visit the studio. Studio Georgeville, by the way, is a gorgeous place, an artists' cooperative that you must visit if you are in the area. So special thanks to Louise and to the Quebec Writers' Federation and the Canada Council of the Arts for sponsoring my visit. My day at Studio Georgeville was definitely one of the highlights of my summer!