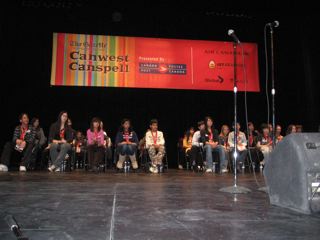 "Theriatrics" was the word that won Christopher Scarvelis the Canwest Canspell Regional Spelling Bee here in Montreal yesterday.
Scarvelis, 13, goes to Loyola High School -- and letme tell you, he's not only a good speller, he has nerves of steel! I know because I was one of three judges at the bee, and I'm still recovering from the tension!
There were 48 spellers, and it took all afternoon until 47 of them were eliminated. Of course, you know me, I took lots of notes, especially about body language! One young man was wringing his hands together and two of the spellers were spelling out the words with their fingers! You never know, maybe I'll write something one day about a spelling bee contestant. One thing's for sure about all 48 of the young people I met yesterday -- they're hardworking and focused and they sure can withstand a lot of pressure. Hats off to all of you, and special good wishes to Christopher when he travels to Ottawa for the national competition.