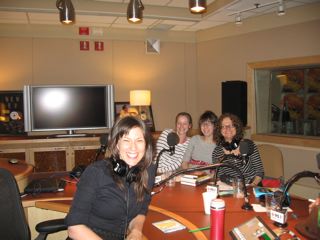 There's only time for a quick blog entry since it's getting late. I'm just back from Radio Canada, where I took part in a French language discussion about YA literature and political correctness. Our segment was part of the program Plus on est de fous, plus on lit with host Marie-Louise Arsenault.
That's Marie-Louise in the foreground of the pic. Next to me is Montreal teacher and YA blogger extraordinaire Sophie Gagnon (if you haven't already done so, check out her blog Sophie lit), and next to her is Quebec author Catherine Girard-Audet, whose latest book is La Vie Compliquée de Léa Olivier.
We panelists agreed that contemporary YA literature is not restrained by political correctness. Rather, no subject seems taboo for today's YA books -- not drugs, not alcohol, and certainly not sexuality.
There were other guests on tonight's show, too -- all interesting and well-spoken. One of them was songwriter Roger Tabra, who was there to discuss his hit son Mon Ange. Marie-Louise asked Roger how he gets his inspiration. I loved his answer so much, dear blog reader, that I jotted it down JUST FOR YOU. Tabra said, "I don't believe in inspiration. It's a white page you have to fill."
So maybe we all need to try Tabra's approach. Don't wait for the perfect moment of inspiration, just start filling up that white page!!