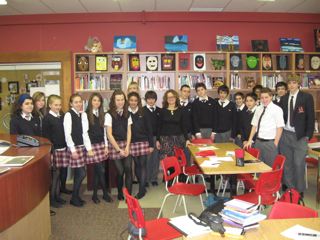 I started my day today at Kuper Academy in Kirkland, where I worked with Miss Lechman's Grade Eight English class. It was a real treat for me to spend time with such attentive and well-informed young people.
Miss Lechman's students have been studying about the Holocaust and so they were mostly eager to hear about my novel, What World is Left. (Still, I couldn't resist doing a short intro about the writing life... how writers need to be persistent and always on the hunt for stories and how for me, writing, though not always easy, is something I can't seem to live without!)
Many of Miss Lechman's students had read The Diary of Anne Frank and were interested to know that my mum went to school in Amsterdam with Anne Frank. In What World Is Left, Anne Frank's name is changed Eva; but in the Dutch translation of my book (on bookstore shelves in Holland this coming April), Anne Frank's name will re-appear. As I explained to the students this morning, for European readers, Anne Frank is a real girl; for those of us who live in North America, she's an icon. My Canadian editor felt if I included Anne Frank in my story, North American readers might get distracted.
My hour with the students went too quickly. (I'd have happily kept talking for another hour!!). Luckily, there was time for a few questions. A student named Cara wanted to know whether any of the teenage friends my mother had in the camp managed to survive. Sadly, the answer was no... though both of my mum's brothers survived along with her and their parents. A student named Ross impressed me not only with his question (it had to do with the difference between a death camp like Auschwitz and Theresienstadt, where my mum was imprisoned, but where there were no gas chambers), but also with the way in which he asked it. It was a sensitive question and Ross showed great sensitivity in how he phrased it. Most impressive for a guy in Grade Eight!
I also had a chance to chat a little with a student named Emilie. Though she isn't in Miss Lechman's class, Emilie had special permission to attend my talk. Emilie is a foreign student at Kuper. She comes from a town in Belgium called Wolhain, which she explained is close to another town called Wavre. I was excited to meet her because as I explained to her, I have some very dear friends in Belgium. I also practiced my Dutch with Emilie since she speaks some Flemish (which is quite similar to Dutch).
On the drive home, I realized I should have offered my condolences to Emilie. Earlier this week, there was a terrible, senseless shooting in Liège, in which five people were killed and many others injured. I'm sure the whole country is in mourning and for Emilie, it must be a difficult time to be away from home.
Before I end this blog entry, I want to say a special thanks to Jennifer Mohammed, the librarian at Kuper who arranged my visit. Miss Lechman, you have a super class -- thanks for sharing them with me today! Kids, if you had a question you didn't get around to asking, just post it here and I'll get to it as quickly as I can.