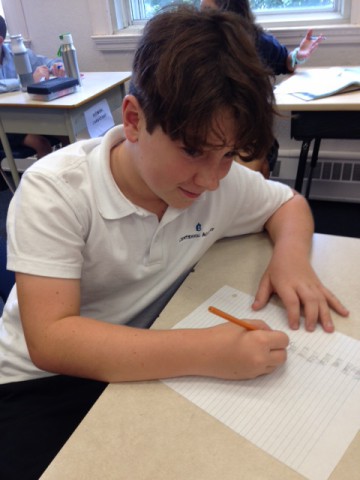 I'm always delighted when I'm invited to visit a school and talk about writing (and reading)... but I am extra-delighted about the visits I am doing this month at Centennial Academy in Montreal. That's because all the English-stream high school students at Centennial had a special reading assignment this summer -- they had to read one of my books!!
In all, I'll be visiting a dozen classes at the school, which is known for its small class sizes and the special attention students get from faculty and staff. Last May, I visited two classes at Centennial -- and I realized right away that the students at this school are my favourite kind of students because they're fun and full of life and they're not afraid to say what they are thinking!
Here's my first example. When I walked into Miss McNaughton's Grade 11 English class this morning, I asked a student his name and he told me, "It's not Benjamin; it's not Benito; it's not Benoit -- it's Ben!" (Of course I wrote that down right away since it's just the kind of line I'd love to use in a novel. Thanks for the inspiration, Ben!)
Which brings me to my next subject -- novels and how to write them. I told the students that I get many of my story ideas from real life. I also told them that I am especially interested in secrets (such as the one my mom kept for more than 60 years when she was not willing to talk about what happened to her during the Holocaust). A student named Mark, who's in Miss Byron's Grade Eight English class, told me he enjoys writing. Mark summed up what he learned from my talk; he said, "I used to just write about anything that came into my head. Now I can look around me and write about that!"
I also explained to the students that writing is HARD WORK. I told them that if they read their first draft and they think it's perfect, well then, they're probably not meant to be professional writers. (I HATE my first drafts, but then I re-write and re-write and re-write some more, and somewhere during that process, the writing starts to get better!) We also talked about the fact that though despite WORKING hard, writers also need to PLAY with language. I tried out a new playing-with-language exercise with two of my groups today. I asked students to make a list of what we call "imitative words" -- like bang and boom and moo. Then we read our lists out loud and filled the classroom with words. I laughed when a student named Raquel read the word ribbit (as in the sound a frog makes). I also liked Renee's cock-a-doodle-doo and Emma's zoom.
I hope the students I met today had fun during my workshops. I know I HAD FUN. I'll be back at Centennial first thing Monday morning. I hope to meet more interesting students and to spread the word that writing and reading are great habits, that they help connect us to others, and can help us understand the world a little better. Thanks to Miss McNaughton and Miss Richter for arranging my visit, and to Miss McNaughton and Miss Byron for sharing your students with me. See you Monday!