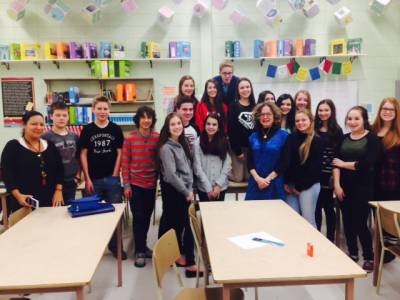 If you're wondering why the title of today's blog entry "Lache pas la patate" is in French, it's because I spent today in Beauport, near Quebec City, working with francophone students at Ecole Secondaire de la Seigneurie -- and I had a great time.
It was my third visit to the school, and I worked with four grade nine classes who are studying English as a Second Language. I warned them that sometimes I talk pretty quickly and to slow me down if they had trouble keeping up, but no one had to rein me in -- the way you need to do when you are riding a horse who gallops when you're in the mood for a relaxing ride!
I tried to tell the students everything I know about writing, and I also gave them a writing exercise to help them figure out if there's a story in their pasts that is calling out to be written!
I also told the students how I got into publishing books, and how I faced many obstacles along the way. I told them my advice to never give up, and then I said to their teacher, Mr. Lord, "That's lache pas in French, right?" and Mr. Lord said, "It's lache pas la patate." Which made me laugh since that basically translates into don't leave the potato. In fact, I think from now on, I will tell all the students I meet "lache pas la patate"!
We discussed how trouble is the fuel that helps move a story forward. William, a student who is into video games, explained to me that even the simplest video game has trouble in it. Simon added, "A video game is like a story." Afterwards, Simon and his friend Charles showed me a book they wrote together. Their book is called "Hashima Island" and though I only had time for a quick look, I found it funny. One of my favourite parts were the biographies at the end. Here's my favourite line from Charles's biography: "Before working with Simon, Charles wrote a book that wasn't very successful." As I told the students, it's great when you can add humour to your stories!
During my talks today, I also mentioned that though writers probably need to know what trouble FEELS LIKE, it's wise to STAY OUT OF TROUBLE. Of course, when you are in Grade Nine, trouble sometimes knocks on your door! So I suggested next time trouble comes knocking, they should say, "I can't come out now. I'm busy writing my book!"
Anyway, I'm writing this blog entry from the train -- I'm headed home to Montreal. Thanks to the Grade Nine ESL students at Ecole Secondaire de la Seigneurie. You were lively and fun, and I really liked your writing. I'm impressed that you can express yourselves so well in a second language. And thanks to your teachers, Mr. Lord and Miss Delgado (that's Miss Delgao in the left corner of today's pic), for arranging my visit. I already miss you guys!