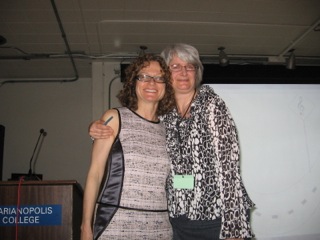 To kick off Arts Festival at Marianopolis College where I teach, YA writer Lori Weber popped by for a visit. Lori has spoken at the college before and so I knew we were in for a fun, stimulating visit.
Lori spoke mostly about her latest novel, Yellow Mini, her first free verse project. She explained how the opening poem is based on her own memories of Grade Eight here in Montreal. I'm going to quote the first four lines of that poem, so you'll have an idea of the kind of work Lori does:
I hate to walk past the third floor lounge
of my school, where
the cool kids
hang out.
Lori told us that when she was in Grade Eight, the older "cool" kids really did hang out in a lounge near the library on the third floor. Lori explained that she draws on her memories for inspiration. She told us, "That's the way a writer's mind works. You store the details, you store the memories."
Lori also discussed the importance of just getting the first draft "out." (This was useful advice for my students in the Writing for Children class, who are just beginning their final assignment -- the first chapter of a YA novel. Come to think of it, it's good advice for all writers!) Lori admitted that when she writes a first draft, she seldom knows where her story is going. "At first," she says, "I kind of just let it go."
So if you're struggling with a first draft, why don't you try Lori's method? Just let it go!
And when you have a chance, read Yellow Mini. I gobbled it up in one night!