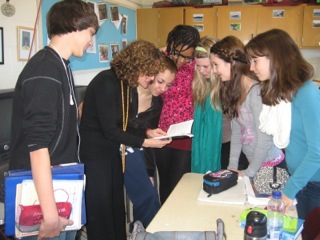 Lucky for me the students at Beaconsfield High School aren't sick of me yet!! I've made several visits to their school over the last few years, so when I returned today, I tried to shake things up by concentrating on my latest books and by testing out some new and improved writing exercises!
That's me in the pic with students in one of Melinda Cochrane's Grade Nine English classes. I worked with two of Mrs. Cochrane's Grade Nine groups, and with one of her Grade Eight classes. Overall, I'd say my workshops went well, though some of the natives got a little restless when it got close to lunchtime!
I told the students in all three groups that one of my favourite questions is, "What if?" In daily life, I find myself asking this question all the time! What if one of the students at my school found a way to break into the school computer system and changed all the grades?
I can't seem to stop myself from asking "What if?" questions. The cool thing, I pointed out to the students, is that writers need to ask "What if?" It's the question that propels our stories forward.
Mrs. Cochrane burst into laughter when I said how I'm always asking myself, "What if?" Turns out she has the same habit. Which is not surprising since Mrs. Cochrane is a writer too, currently hard at work on a YA project for James Lorimer and Company in Toronto.
Students named Morgan and Charlie told me they're also into the "What if?" question. A student named Keefer came by to say hello. He'd introduced himself a couple of years back (or was it last year?) when I was at BHS. Keefer's aunt is a dear friend of mine -- so I know Keefer from when he was just a little guy!
Today was the first time I ever gave writing workshops with musical accompaniment. That's because music teacher Mr. Legault was down the hall, preparing the senior stage band for the St. Hubert Jazz Fest tomorrow. They were playing Metropole Sun -- and you guys sounded great!
I'm a great believer in the power of making things -- whether it's stories or music or spaghetti sauce!! Hope you find time to make something wonderful this weekend! Thanks Mrs. Cochrane for the invite, and Mr. Legault for the music!