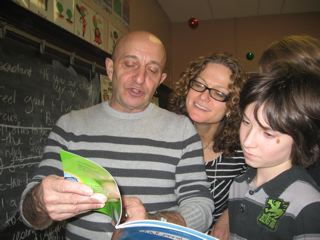 That's famous Quebec illustrator and author Philippe Béha with me and a student named Eloi in today's pic.
Thanks to another terrific Blue Metropolis Literary Foundation project called En Mots et En Images, I have been working with Carole Blouin's English class at Ecole Paul-Bruchési here in Montreal (Mrs. Blouin's students' first language is French). A class in Ontario wrote the first paragraph of a story for us, and our task has been to expand it into a full-length story. Our expanded version is called "A Crazy Day at the Lab" and everyone who hears it ends up laughing -- a lot! (In the mean time, the class in Ontario is working on completing a French-language story begun by students at Paul-Bruchési.)
Philippe Béha certainly laughed when the students read him the story this morning. We still needed to come up with a final line or two, and Philippe had a great suggestion. We put that together with other suggestions from the class and I think that now our story really works. Not only is it funny, but it has a beginning, middle and ending, there is dialogue and the main character changes in a positive way.
Now Philippe will meet four times with the same students to help them illustrate their story. I took some notes on what Philippe told the class today. He was speaking about illustration, but I think his advice applies also to writing. He said that he never starts drawing right away -- he thinks first! "I don't start right away with my pencil. I start by thinking and sometimes by writing out my ideas or sketching them. It's a way for me to remember my ideas," he told us. I guess that's an illustrator's version of the brainstorming we writers like to do.
Though I don't want to give away too much, I will tell you that squirrels play a prominent role in "A Crazy Day at the Lab." Philippe asked the students, "What is particular about squirrels?" They answered: "big tails," "lots of teeth" and "round ears." Those details will help them when they start their drawings. Philippe also asked students to LOOK at squirrels in the park, in their gardens, or in books or on the computer. "Does that mean you want them to do RESEARCH?" I called out. (You will know by now that I am very keen on doing research and was excited to know that illustrators are researchers, too.)
Near the end of his session, Philippe compared illustrating to making soup: "You need to let it cook!" At that point, one of the students looked at me and said, "You told us that too!"
So, all in all, it was a very happy morning for all of us. If I can, I'll try to slip into one of Philippe's art workshops with the class (he said it would be okay, and Mrs. Blouin agreed as well). When I go, I'll be sure to write a blog entry about everything I learn.
Monday morning early, I'm off to the town of Nemaska in the James Bay region. That visit is also connected to Blue Metropolis. Photographer Monique Dykstra and I will meet another group of students who'll be contributing to the 2012 edition of Quebec Roots: The Place Where I Live. If you think I have an exciting life... you're right!!