Today photographer Thomas Kneubuhler and I were out "on thin ice." Usually, that means people are getting into trouble, but not us! We went out snowshoeing this morning on Lake Mistissiniand we saw a sign that said: "Danger! Thin ice!" So we had to be extra careful on today's expedition.

In the classroom, things continue to go super well. This morning, I worked individually with several of the boys. Christian M wrote a poem about his sister Marilee, who is also a hunter (though Jason says she's not as good at hunting as he is!); Jordan C wrote a poem about why he loves to hunt (he drew on all five senses -- for example, he said he loves the smell of spruce, and the sound the geese make when they fly overhead) and Christopher L wrote a poem about the first time he killed a goose and how his Grampa told him afterwards: "Congratulations, nosum!" (Nosum is the Cree word for grandson.)
We talked about how important it is to get good details in stories -- and that's exactly what the students did in their poems. Right now, Thomas is reviewing photos the students took yesterday and they are looking at details, too. I'm partial to a photo of Jason T holding a weasel pelt. In that photo, you can see Jason's big smile -- and the weasel's pointy nose. That's me with the weasel pelt in today's photo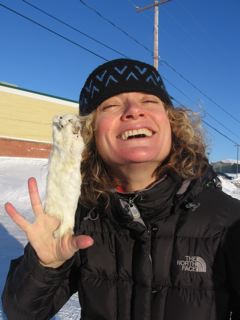 !)
Heading home tonight. I'll be sorry to leave my new friends in Mistissini. Tomorrow morning, there won't be any twelve-year-old boys to ask me, "Hey, are you taking us to the gym?"
Special thanks to teacher Brent Crocker for making his students smart and happy, to Ethel Blackned at the Cree School Board for organizing this trip, and to Blue Met, the organization behind the Quebec Roots project.