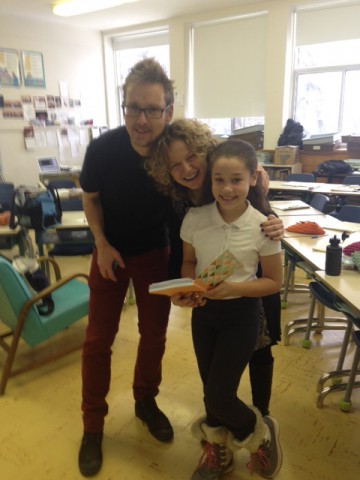 If you're a regular reader of this blog, you'll know all about Quebec Roots -- an amazing Blue Metropolis Literary Foundation project that brings teams of writers and photographers to classes across the province so that students can contribute to a real life book!
Today, visual artist Thomas Kneubuhler and I visited St. Monica School (which happens to be around the corner from my house in Montreal). We worked with Mr. Trister's (the students call him "Mr. Noah") grade five class and they were AMAZING.
In today's pic, we are with a student named Raquel. She is showing us her journal. She first whipped out her journal when I was talking about mine, and about the importance of making writing a daily habit. Raquel's journal has two entries in it -- so it's pretty new. When I did a little RESEARCH, I found out something super interesting -- that Raquel paid for the journal with her own money, and that she is a businessperson. She sells soap she makes herself. One of the scents she uses is called "grapefruit blush." Can't you just smell it?
Thomas taught the students some photography tips and I taught writing tips. One thing Thomas told the class was that, "Sometimes you need to shoot a portrait 10 to 20 times to get it right." Which made me interrupt and ask the class, "What's that like in wriitng?" And because they are so smart, they knew the answer: RE-WRITING!!
One of our main goals today was to help the students brainstorm a sujbect for their chapter in the 2017 edition of Quebec Roots. There was a close vote -- the two final choices were "Accidents/Booboos/Fights" and "Being a Newcomer." "Accidents/Booboos/Fights" won by a narrow margin. I thought it was fascinating that many students in the class had stories about accidents. Louie's mom crashed her car yesterday (it was really icy here in Montreal) and a student named Youssef has an unusual scar on his head (the result of an operation he had when he was a baby). A student named Ernest has a booboo caused by excessive nose-blowing. I don't know about you, but I am already looking forward to seeing the work Mr. Noah's class does for their chapter in this year's Quebec Roots.
Three cheers for Mr. Noah and his class, and three extra loud cheers for Quebec Roots. We're so glad to be back on the road -- reaching students across Quebec!