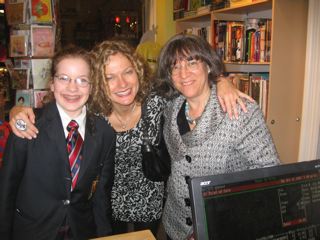 I'm always telling my students not to use the word "very," but today, well, you'll have to excuse me for breaking my own rule and describing yesterday's launch of The Middle of Everywhere and Junkyard Dog as a VERY happy occasion. Despite the yucky weather (it had rained hard all day, and then just as the launch started, we got the first little snowfall of the season!), there was a great turnout. I think there might have been about 100 people!! In today's pic, you'll see two of the first arrivals. To my right is a longtime friend named Cynthia Davis. Cynthia and I went to high school together and we have reconnected through her husband, Montreal writer Joel Yanofsky. They brought their son Jonah, who loves hanging out at Babar en ville, the bookstore that kindly agreed to host yesterday's launch.
Now I have to tell you about the lovely person to my left -- her name is Julia and she is a real live fan!! (You see most of the people who come to my book launches are family or very good friends!!) I had never met Julia before and I could tell right away she loves to read. She told me she read my book What World Is Left two times!! WOW!!! Of course, she was also excited to meet my mum on whose story that book is based. And there's more exciting news to tell you about Julia. Her mom (whom it turns out is a colleague of my sister's) bought her my two new books and Julia went downstairs to find a quiet spot in the bookstore and GUESS WHAT? SHE READ JUNKYARD DOG!! And gave it an excellent review!!
Maite de Hemptinne, director of educational programs at the Blue Metropolis Literary Foundation, was also there. What makes that extra special is that Maite brought her husband John and their two sons, the littlest of whom, Robin, is only two weeks old!! Maite was with me in 2007 when I traveled to Nunavik, where The Middle of Everywhere is set. Photographer and very (I know I'm using the word "very" a lot today!!) dear friend Monique Dykstra, who was also with us in Nunavik, was at the launch, too, with her MOM, whom I had never met before. And you know what else? One of my favourite former students (Tamar) couldn't make the launch because she's in law school in Ottawa, but SHE SENT HER MOM INSTEAD!!
So can you blame me for finding it a little hard today to return to Planet Earth? Planet Book Launch was way more fun!!! Thanks to everyone who turnd up. Special thanks to my friends and neighbours and to my colleagues at Marianopolis College. And to my husband Mike for being well... himself! Okay then, Planet Earth calls. I'd better get back to work on my new book if I want to have another book launch!!!! Have a great weekend wherever you are. Signed, Happy Writer