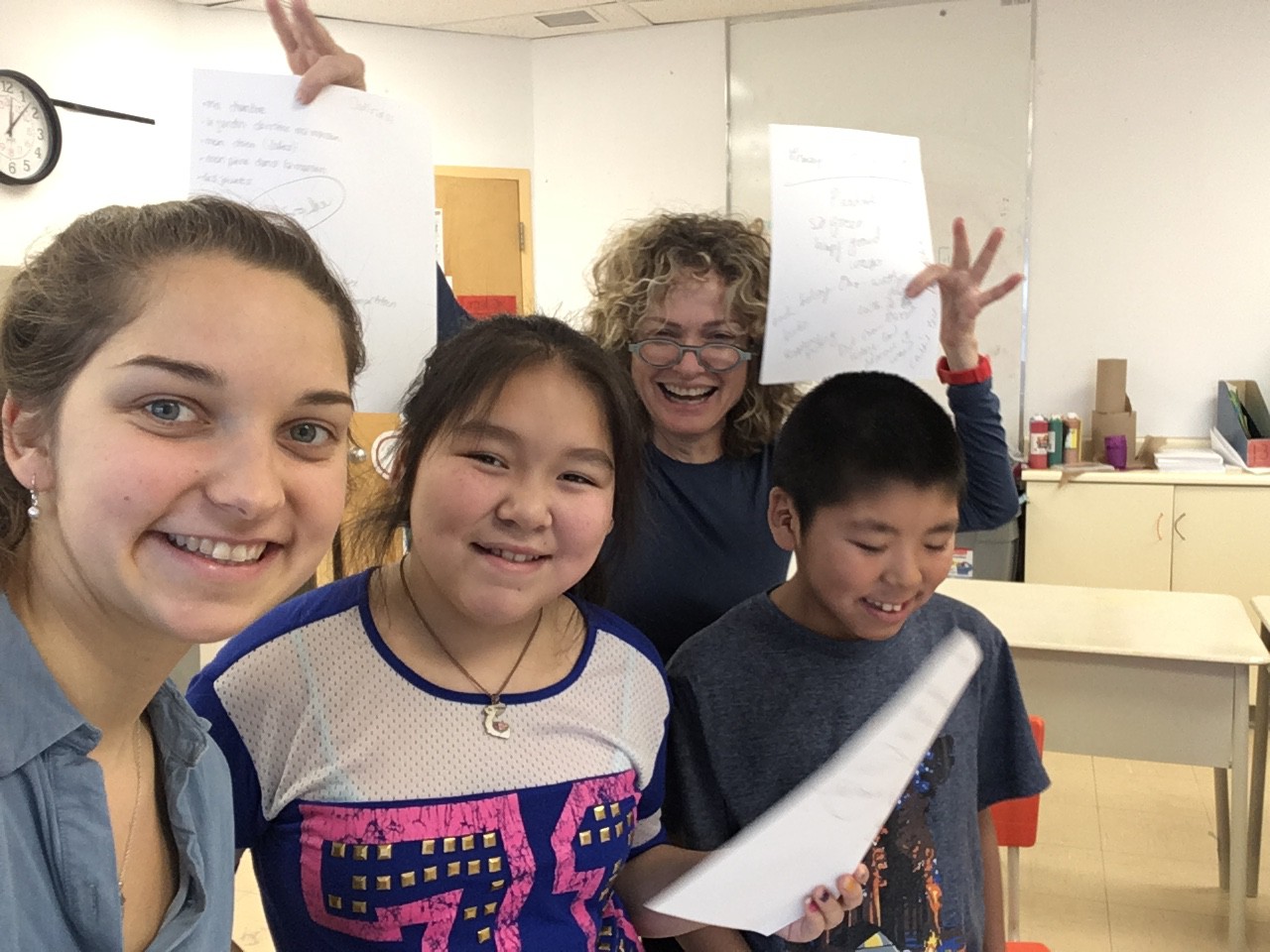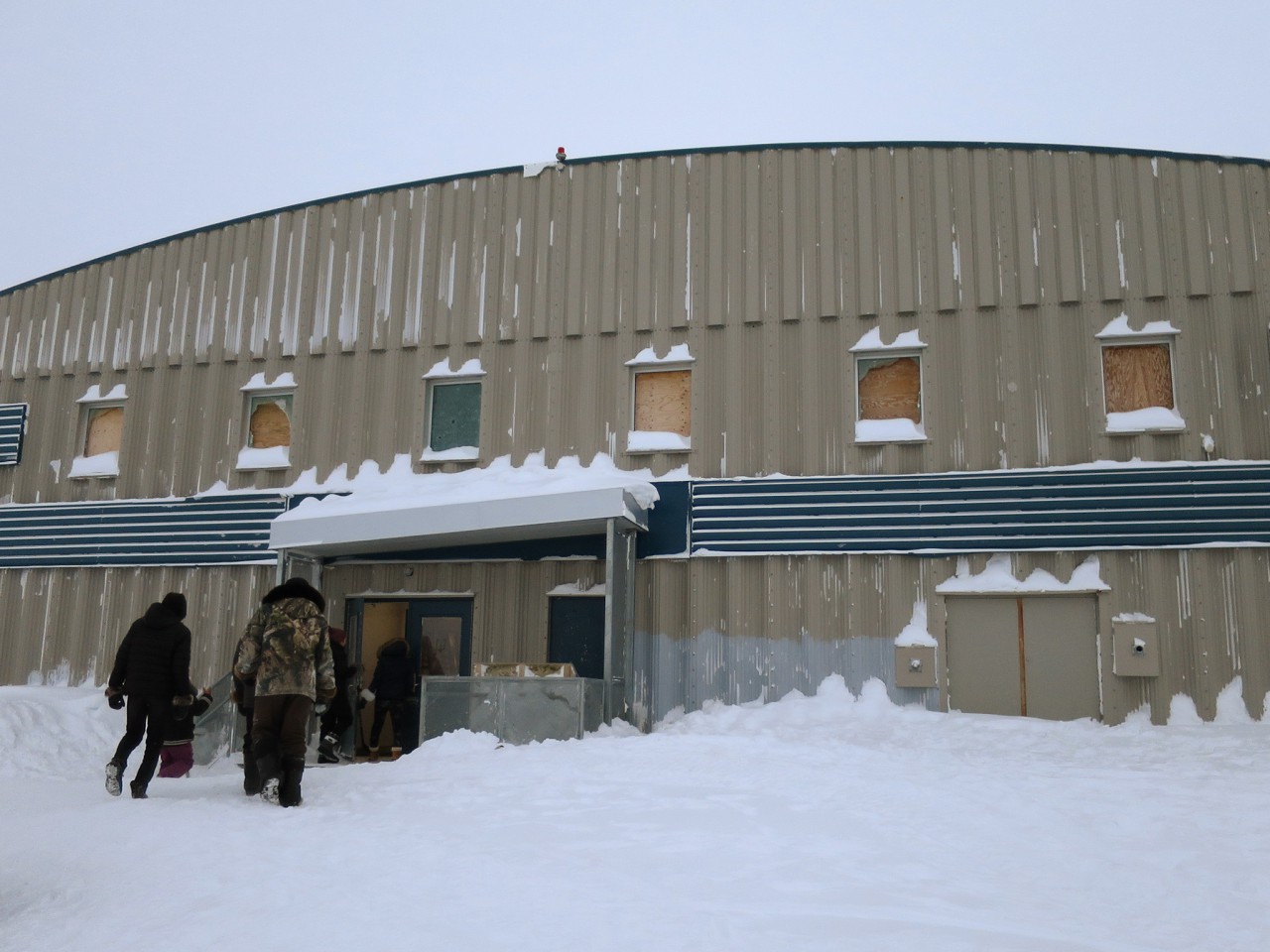 Hello again from Akulivk, Nunavik, where I am working with artist Thomas Kneubuhler at Tukisiniarvik School. We are here as part of the Blue Metropolis Literary Foundation's Quebec Roots program, helping students use words and images to produce a chapter that will be published this spring in a real book!
I am calling today's blog entry "Small Triumphs in Akulivik and A Lesson from an Artist." I'll start with today's small triumph. English is a second or third language for most of the students at Tukisiniarvik School. Most have grown up speaking Inuktitut. And many of the students we've been working with this week are reluctant to put words on paper. (They are a lot happier when they are taking photographs with Thomas!) I think part of the issue is that their fear of making a mistake. I've been trying to tell them that making mistakes is an important part of the writing process. I make mistakes all the time. Which is why I spend most of my work days RE-WRITING!
So today's small triumph came when we dropped in to visit Abby's class, which is down the hall from Edna's class (we've been working with Edna's students for the Quebec Roots project). Because most of the kids at Tukisiniarvik were in the gym, preparing for the Christmas party, Thomas and I only had two students: Diane, who's 14, and her 12 year old brother Sakiriasi.
Thomas started the lesson by showing them some photos and talking about his work as a photographer. I took over for the second half. My small triumph was: I GOT THE KIDS TO DO SOME WRITING!! I asked them to remember being five years old. Diane wrote about playing with her best friend and her dog. Sakiriasi wrote about going hunting for caribou with his dad. Sakiriasi has been hunting since he was four! You'll find proof of today's small triumph in the first pic -- that's the two kids, with Abby and me -- all of us showing off our writing!
Perhaps you are wondering what the second photo is all about. That's a photo taken by one of Edna's students -- it's a shot of the arena here in Akulivik. The students have decided to focus their chapter on the arena, a popular destination in town. Thomas was showing Edna's students this pic yesterday... and now comes "A Lesson From an Artist"! Thomas observed the boarded up windows on the second floor of the arena. (You'll see them in the second photo.) And he asked the students, "What happened to those windows?" Then Thomas turned to me and said, "I bet there's a story there!"
It turns out that Thomas was right. It also turned out that one of the boys in the class admitted that he had broken one of the windows. And guess what? I got him to write a poem about it! We called the poem "Slingshot" since that's what he used to shatter the glass. I'm going to share a few lines from his poem here:
"On my third try, I shattered the window.
I felt good and bad.
Good because I had good aim.
Bad because I broke the window."
I don't know about you, but I love the simple straightforward language and the part about feeling good and bad. I often have mixed feelings about things. I also admire that the student was brave enough to write about something difficult. As I've been telling the kids in Akulivik, trouble in a story (or poem) is like gasoline in a Ski-Doo -- it gets things moving!
One of my YA novels, The Middle of Everywhere, is set in Nunavik. But another thing I've been telling the students here -- perhaps the most important thing I can share with them -- is that they're the real experts about life in the North. It's time for YOU to write YOUR stories about life in Akulivik. Use trouble to fuel your stories, and take a lesson from Diane and Sakiriasi and don't be afraid to make mistakes!