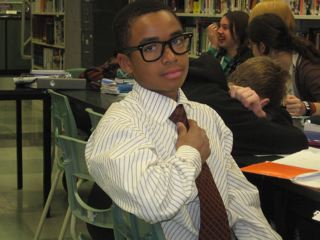 Hello hello dear blog readers,
Doesn't the young man in my first pic today look clever?
He's a student named Isaiah -- and I began my day today with him and his class at St. Thomas High School in Pointe-Claire. (I was there last week too, in case the name of the school sounds familiar.) I pointed to Isaiah when I wanted to show the students what a smart, motivated student looks like... that's when Isaiah's friends called out, "Put on your glasses!" (His glasses make him look even smarter!) I was making the point that writers need to OBSERVE DETAILS. Rather than saying, 'Here's a student who looks clever,' I could point to the way Isaiah was looking at me (directly, full of concentration!), his straight spine, and of course, his crisp shirt, cool tie and those studious-looking glasses.
I worked with four classes this morning at St. Thomas, each class wonderful in its own way. I was there to talk about my writing process and to offer some insights into memoirs, which the students are now studying.
Two students -- Joey and Adam -- told me some amazing stories about relatives who, like my mum, survived the Holocaust. I hope that Joey and Adam will be able to research and then share these stories. Go for it, guys!
I had to laugh when a student named Veronica said, "I could listen to you forever!" Hey, thanks, Veronica! That made me feel good on such a busy day! And the truth is -- if you had to listen to me forever, you'd go BONKERS!! Forty-five minutes is probably just right!!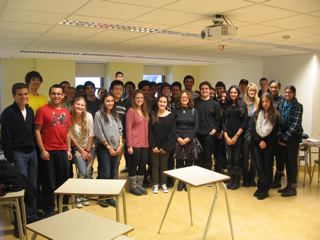 In this next pic, you'll meet my Stuff of Nonsense Humanities class at Marianopolis. Aren't they lovely? They're also very bright. I know because though it was only our first class, we already had a lively, stimulating discussion. Thanks, guys, for making me feel privileged to be back teaching full-time.
My day didn't end with the Stuff of Nonsense. After that, I taught my Writing for Children English class. That's another course that's very dear to my heart. One special treat (it was supposed to be for the students, but really, I have to admit it was a special treat for me too) was that I told them to relax and just try to be kids again, and then I read them two delightful picture books by Maurice Sendak, Chicken Soup With Rice and Pierre. I wish I'd taken a pic of that group too... but I kept the class too long and some students were worried about missing their bus. But I promise to post their pic before the end of the week.
Here's to stories -- listening to them, researching them, writing them, sharing them. As I said to ?? -- I can't remember who I said it to! I've seen so many students the last few days!! -- everything in our lives disappears (even us, sorry to say), but stories endure. Go find them! Then tell them!