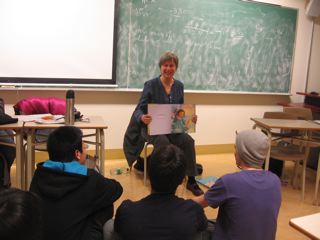 I'll begin today's blog entry by telling you about an interesting discussion today in my Stuff of Nonsense Humanities class at Marianopolis College. We were talking about what kinds of things we can learn from children, and one of my students -- Cristina -- had such a good answer I wrote it down and asked her permission to share it here. Cristina said: "Children can teach us to be free, to not be scared, and to be who we are." We went on to discuss how the focus is usually on how much adults can teach children, but of course, the lessons Cristina mentioned, the ones kids can teach us, are pretty important, too.
What does this have to do with the subject of today's pic? Keep reading and it'll all become clear!
The woman in today's pic is Nancy Gow, a Montreal picture book author, who came to my Writing for Children class (I teach it right after The Stuff of Nonsense) to tell us about her book Ten Big Toes and a Prince's Nose. The refrain in Nancy's book reminded me of what Cristina had said in the Nonsense class. Here's part of the refrain: "I am who I am and that's all right with me." See what I mean? The theme of Nancy's book is accepting ourselves and others for who we are.
As you can see from the pic, Nancy actually read her picture book to my class. Some of the students even came to sit on the floor in front of her so they could really get the feeling of being kids again!
After her reading, Nancy told us how the story of her story. She was just about to have a nap when the lines of the story began to come to her. Though she was tired, she got up to write them down. She went back to take her nap, but more lines kept coming!
It's no coincidence, I think, that Nancy taught yoga for many years. She told us that, "Learning to relax your mind and body can work better than continual effort." She also said that having a good supportive friend (in her case, a man named Bernie, one of the people to whom Ten Big Toes is dedicated) helped her become a published author. She told us that Bernie was always glad to listen to her story while she was working on it and that he believed in her.
Another thing Nancy said struck me as wonderfully wise: "Your specialty is usually what you like most." Ah ha! That should get the rest of us thinking... what kind of stories do we like most? Perhaps it's time to begin writing one of those stories!