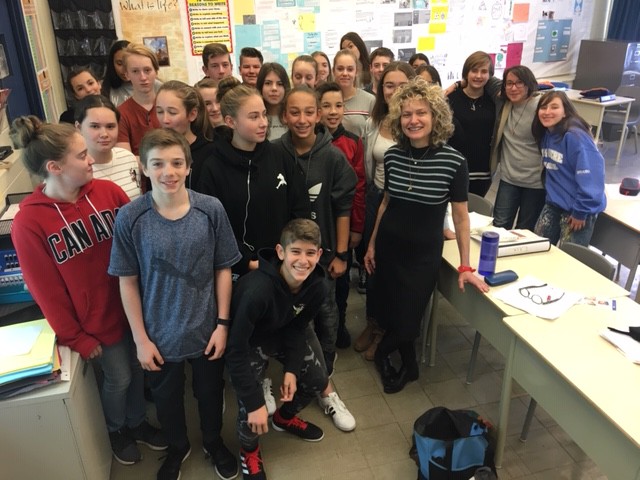 I'm just back from an incredible visit to Rosemere High School. I was there to work with a group of Sec. II students -- most of them have Miss Lawrence for English, but some were invited to take part because they happen to be keen writers.
Because the students were so motivated, I made an impromptu decision: to try a brand new challenging exercise. To be honest, I was a little worried the exercise might turn out to be a disaster, but IT WORKED!! Anyway, you might be wondering about the quote "Write about what keeps you up a night" which is part of the title of today's blog entry. It's a quote from David Small, an American author and illustrator, whose graphic novel Sitches is one of my all time favourites. Though I never met David Small, my life changed when I heard him interviewed, and he shared that piece of advice: "Write about what keeps you up at night." (In fact, the day after I saw that interview, I started working on the novel that became So Much It Hurts -- which is based on an incident that still occasionally interferes with my sleep.)
So I asked the students to write about what keeps them up at night. I explained that that exercise was just for them -- that they didn't have to show me what they wrote. But I told them, "Keep that piece of paper with you always. Put it in a safe spot. One day, when you're ready -- turn it into a story." I also suggested that they consider using other art forms such as drawing or collage or making music to transform what keeps them up at night into something beautiful and meaningful.
As usual, I shared all my writing tips, and had the students do two other exercises. When I was talking about how writers need to ask "What if?" to help them advance their plots, a student named Laura remarked, "That sounds like anxiety. When you have anxiety, your mind is constantly working and never shuts off." Interesting! I'd never thought of the "what if?" mindset that way before -- and I suggested to Laura that maybe she should write about a young person who can't shut off her mind. I'd definitely want to read that story!
When the students did an exercise based on a memory, Laurence remembered, "When I cut my hair really short like a boy's. My head felt light." I thought that that memory would make a great story -- and would allow Laurence to explore gender roles and expectations.
A student named Michael gave me permission to share his beautiful and honest memory from when he was ten. Get ready for something powerful!
"When I was ten, I had a five year cancer remission party on Feb. 5th, 2015. I felt everyone's happiness. I saw the relief in my family's eyes. I tasted a bit of fear and I smelled amazing food of course."
See what I meant about powerful? And MIchael's done such a great job of combining observation (his family's relief), honesty (his own fear) and humour (the amazing food "of course"). You know what I say to that? That even though Michael told me he wants to become a doctor, I think he should also be a writer (it's possible to do both, you know.)
Thanks to Miss Lawrence for the invite to Rosemere High (rest your voice, Miss Lawrence, so that you give that laryngitis the chance to completely go away); thanks to student teacher Mr. Simon for helping things go smoothly; and special thanks to the students. You inspired me -- though I believe it was supposed to be the other way around!!