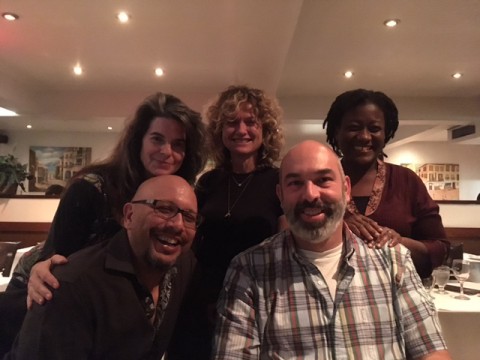 I'm just back from the local pizza joint -- where I had pizza with a bunch of writers. And because I was thinking about you, dear blog reader, I brought some notepaper and made sure to get you top-of-the-line writing advice.
The guy in the bottom left corner was our visiting writer, and the reason we got together. He's Greg Neri, whose latest book is Tru and Nelle (Houghton Mifflin, 2016), a middle grade novel based on the real-life friendship between writers Truman Capote and Harper Lee.
Next to Greg is Mathew McCarney, who teaches Grades 7 and 8 English at Selwyn House School in Montreal, and who writes poetry. The woman behind Matthew is Carol-Ann Hoyte, a poet and librarian at Sewlyn House. And the woman behind Greg is my dear pal and fellow YA author Raquel Rivera.
Okay let's get to the advice.
I asked Greg first (after all he was the guest of honour). He said to tell you the following: "My advice is don't listen to anybody who gives you advice. Especially if they say, 'You should do this...'"
But then Greg said he actually did have some advice for young writers: "Give yourself permission to be lousy because young writers put too much pressure on themselves. Even if you know it's lousy when you're writing it, keep writing it. Let it out. You'll fix it later." (NOTE: Greg didn't use the word LOUSY. He used a better word, but can you believe it? I just got a message to this blog saying I had to remove the word. BOO!!!)
I LOVE THAT ADVICE and I HOPE YOU WON'T LISTEN TO GREG'S FIRST BIT OF ADVICE ABOUT NOT LISTENING TO ANYBODY'S ADVICE!!
I got even more advice for you guys. Matthew says he tells his students, "Everyone can tell a story. Now go ahead and tell yours." Raquel, whose latest novel is Show Mode (Orca Book Publishers) decided to pass on another writer's advice. She quoted Toronto poet Lillian Allen who tells aspiring writers: "You want to be a writer? Find an interest. Write about it." Raquel's latest interest (she has many, it's one of the reasons she's my pal) is samba reggae drumming. "It's my new religion," she told me.
Carol-Ann recently edited and anthologized Dear Tomato, a poetry collection. Her advice has more to do with reading than writing -- but you'll never become a writer if you're not a reader. Carol-Ann said to tell you, "There is a right book for everyone. You may just not have found it yet."
Speaking of books, dear blog reader, it's 9:32 PM in Montreal. I'm about to retire for the day -- with a book. Hope you've got something delicious to read too.