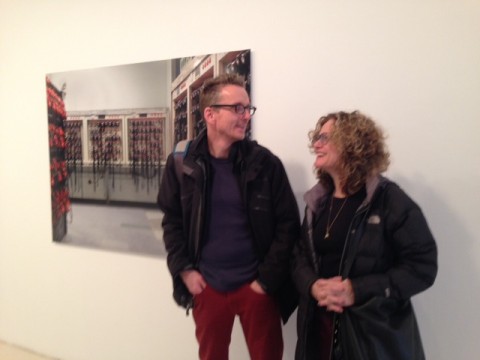 Yesterday, a friend and I got a private showing of Thomas Kneubuhler's exhibit, Land Claim. Thomas came to meet us at Galerie B-312 in the Belgo Building downtown, where his work is being displayed. (He has a second exhibit going on now in Montreal too. More about that later.)
Thomas and I became friends when we traveled together to Nunavik for a Blue Metropolis Literary Foundation project called Quebec Roots. What I never expected is that I would learn about writing from a visual artist! And it happened again yesterday when the three of us were chatting while we looked at the photos and videos that were part of Thomas's show.
That was when I whipped out a sheet of paper and a pen from my purse (Writing Tip #1: Always have paper and a pen handy!). Thomas was explaining to my friend how he comes up with a subject for a visual art project. What he said applies to writing too -- and how we need to feel inspired in order to begin a project -- and stick with it! "There's usually a trigger," Thomas said. He explained that the trigger for Land Claim came when he heard about Raglan Mine, an iron mine in Nunavik, and learned that the company's head office is located in Switzerland, where Thomas was born. Thomas added that a subject may be "something where you have access that no one else does, something that is personal and that you have a personal connection to." Thomas also explained that there's a great deal of research behind his projects (same is true for writing stories, of course). Finally, Thomas talked about the effort that goes into his art. He never just snaps a photo or turns on his video recorder. Here's how Thomas put it: "It's often very hard work and it involves a lot of things!"
Thomas's show at Galerie B-312 runs until Dec. 19. Same for his show at Patrick Mikhail Gallery. If you're in Montreal, check them out! (I've included a link to his website at the top of this blog post -- you'll find the addresses and times for the exhibits there.) Hey Thomas -- thanks for the private tour -- and the inspiration!!