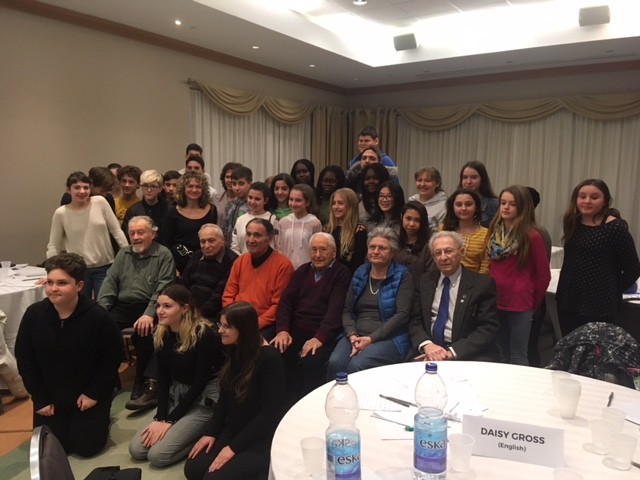 If you're a regular reader of this blog, you will know that usually, I come right home from doing a workshop and write a blog entry. But after today's workshop -- offered at the Montreal Holocaust Museum to mark International Day for the Commemoration of the Victims of the Holocaust -- I needed to take some time to process all my thoughts and feelings.
The six grown-ups in in the second row in today's pic are all survivors of the Holocaust. Today, they agreed to be interviewed by the teenagers you see with them in the pic. My job was pretty easy -- I spent about 20 minutes prepping the young reporters, sharing my own tips for interviewing people about difficult subjects. I told the kids to watch their subject's body language, I told them to get quotes, to look for stories that were sad or funny or moving. But most of all, I asked them to get their subjects to tell them something they had never shared before. Not an easy task considering that some of the survivors have shared their stories with hundreds, even thousands of other students.
The kids were A-MAZING!! As survivor Leon Celemencki told me, "Their questions were different from all the others I've been asked." Survivor Leslie Vertes was also impressed with the kids who interviewed him: "They want to know the truth. They don't ask easy questions."
I suppose I shouldn't have been surprised. After all, the more than 30 kids who turned up this afternoon came ON A WEEKEND to learn about interviewing and writing. They were from all over Montreal and some were even from the Laurentians. Several attend Marie de France High School, and were accompanied by their History teacher Anne Marguet.
True to the real experience of being a reporter, the kids were under deadline pressure. They had a little under an hour to conduct their interviews (they worked in groups of 5 or 6), then 20 minutes to produce a paragraph in which they shared the most interesting or moving information they had learned, and then they took another 20 minutes to read and listen to each other's paragrphs.
I don't have room to share all the stories here (hopefully the Montreal Holocaust Museum will collate the paragraphs and post them on-line for the public), but I'll tell you a little about what some of the Marie de France students learned about survivor Fishel Goldig. The interview was conducted in French, and the students' paragraph was written in French, so I'm translating here: "Because they knew the SS was coming, Fishel was hiding in a shed in the Ukraine with his mother, his aunt and his cousin. Fishel and his mother hid under a mattress; his aunt and cousin hid underneath two wash basins. The SS murdered Fishel's aunt and cousin. He heard the sounds of their rifles, as well as the moaning and groaning of his aunt and cousin as they lay dying. Then the SS men lifted the corner of the mattress, but because of the way Fishel and his mother were lying on the diagonal, the SS did not find them. Even after the SS left, Fishel and his mothr didn't dare move despite the agony of their relatives a few feet away."
Amazing, no? Heartbreaking, no?
At the end of our afternoon together, Fishel said he wanted to say a few more words to the kids. He told them. "We the survivors have an obligation to tell our stories. You people have an obligation too. You have to make sure we don't have another Holocaust."
On my way out of the museum, I spoke with Emma Wong, a Grade 7 student at Durocher School. This is how Emma summed up the afternoon: "Even though it happend so long ago, the information they passed on we will have to pass on to the next generation."
Special thanks to all my friends at the Holocaust Museum: Alice Herscovitch, Sarah Fogg, Audrey Licop and Eszter Andor. Thanks to my friend, lawyer and writer Myra Shuster who helped the students with their interviews. Thanks to the students for being sensitive and brilliant, and not being afraid to ask difficult questions. And to the Holocaust survivors -- what can I say? Thanks is not enough. I so respect and admire, and am inspired by your courage. God bless all of you!