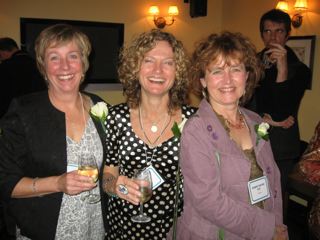 I really wasn't expecting to win the Quebec Writers' Federation Prize for Children's and Young Adult Literature -- but I did win (for my book What World Is Left, the novel based on my mum's experience during the Holocaust) and I can't tell you how excited and happy I am!
I was up against some pretty steep competition. To the left in today's pic is my very dear friend, picture book author Jane Barclay , who was up for her new book Proud as a Peacock, Brave as a Lion. To the right is the reigning queen of the picture book, Marie-Louise Gay , author and illustrator both, who was nominated for her book When Stella Was Very, Very Small. I've known Marie-Louise for several years and in fact, when we ran into each other at a party some seven or eight years ago, she is the one who told me that Orca Books was looking for new manuscripts in what's called the "hi-low" category -- and that led to my first book sale in 2003.
To be honest, I'm a little discombobulated today from all the excitement. So I'm about to start doing the one thing that makes me feel happiest and most centred -- bet you can guess what it is...
Uh huh, I'm going to WRITE!
Many many thanks to my friends at the QWF, to the judges for awarding me this wonderful prize, to my mum for having the courage to share her story, and to Jane and Marie-Louise for being part of a supportive children's writing community here in Montreal!