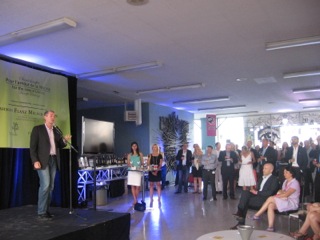 I'm just back from a party in Old Montreal where we celebrated the launch of the Montreal branch of Room to Read. Room to Read is a non-profit organization that promotes reading by opening libraries and supplying books to impoverished children in developing countries. What makes the program especially interesting is that the books are written in the children's own languages (think Khmer, Nepalese, Tsonga and Bundeli!) and the authors and illustrators come from the countries where the children live.
John Wood, the founder of Room to Read, came from New York to join the party. That's him at the podium in tonight's pic. Wood was the marketing director at Microsoft, but he gave up that job after traveling to Nepal and visiting a school that had 450 students -- and no books. Wood went on to write his own book, Leaving Microsoft to Change the World.
Tonight, Wood told us that Room to Read has already touched the lives of six million youngsters. The organization's goal is to read 10 million youngsters by 2015. Room to Read has a special interest in educating girls, since in too many countries, girls have less educational opportunities than boys. My favourite line from Wood's speech tonight was when he told us, "When the world is full of educated, butt-kicking women, things will change!" Way to go, John Wood -- and way to go, Room to Read!