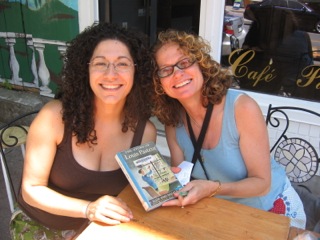 One of the things I love most about stories is the way they lead to other stories.
That helps explain today's pic. In it, I'm sitting outside a coffee shop (see the Bandaid on my nose? I wish I could say I had a small BOXING injury... but alas, it's only a booboo caused by my glasses jiggling when I run) with Talya Pardo, the librarian at Solomon Schechter Academy.
Here's the story behind the pic: A few weeks ago, Talya read my piece in the Gazette about my trip to Holland to launch Een Andere Wereld, the Dutch-language translation of What World Is Left. In the article, I wrote a lot about my opa (grandfather) Jo Spier, who was an artist in Holland and whose talent helped keep our family alive during the Holocaust.
Well, a day or two later, Talya was "weeding" books in her library, looking for ones that were not taken out often. She happened to come across The Story of Louise Pasteur, written by Alida Sims Malkus -- and then she noticed that the biography was illustrated by Jo Spier! And because it was one of the books that was not circulating much, she decided to GIVE IT TO ME!
I never knew my opa illustrated this book -- and am quite excited to have it. I am reading it slowly and of course, enjoying the illustrations.
During our coffee date, Talya told me why she thinks books matter so much to kids: "As a child, books were my escape. They expanded my vocabulary and my knowledge of the world. Books tease your imagination. They make your imagination go -- and keep going!"
Of course, I asked Talya what book she's reading now. She told me it's Robert Jordan's The Gathering Storm -- it's the 11th in a series. Talya says that at her school, quest series and realistic adventures books are especially popular. She has noticed though that "some kids seem to find it hard to suspend their disbelief." We talked about why that might be, and wondered if it could have something to do with T.V. Sounds to me like those kids need to do even more reading -- so they can have their imaginations "teased"!
Hey, Talya, thanks a million for my new old book. I'm glad my story led to this story!