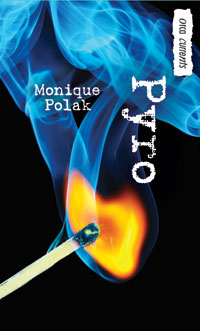 I thought you might like to have a sneak peek at the cover of Pyro -- it'll be out this coming fall.
Pretty cool, no? Actually, I should say pretty hot!
I got interested in the topic of fire when we bought a house with a fireplace. One of my favourite things is that moment when the fire catches -- and whoosh! the flames turn orange and start crackling.
The next thing that happened was that I started asking students (my own, and others in the classes I have visited) about their experiences with fire. I was especially interested in the kids who have started fires. I wrote down everything they told me, and stashed it all in a file marked "fire." And then, well, the story started to grow in my mind. And a narrator came to me. This one's name is Franklin Westcott and my editor, Melanie Jeffs, says he's snarky. In fact, she says that my characters are getting snarkier with every book I write!
Of course, I had to do other research too. Luckily, I managed to get hold of Dr. Kenneth Fineman, a California psychologist who treats young fire-starters. He was kind enough to make time to talk to me last summer. Dr. Fineman helped me understand what motivates kids to start fires and how they can be helped to stop. I used what he told me to develop my story.
Let me know what you think of the book cover. I LOVE it!