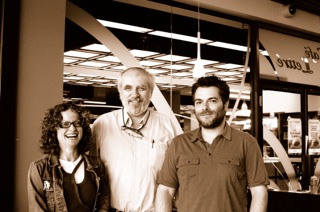 I know, I know... you figured out the answer to the question, "Guess who won the Combat du Livre at Ecole-de-Saint-Exupéry?" : ME! (Why else would I have asked the question!)
You may remember, dear blog reader, that I was invited to Ecole-de-Saint-Exupéry in May to defend my book, Poupée -- the French language translation of On the Game. Today's pic is from that event. In it, I am standing next to publisher Robert Soulières and author Michel J. Lévesque.
The students had to vote on several French language YA books and it was a fiery battle. Apparently, I managed to sway some of the undecided vote with my lively speech -- even if it was delivered with an English accent. So, thanks to all of you at Ecole-de-Saint-Exupéry. I didn't tell you, but I was hoping my book might win!
Speaking of accents, I am gearing up for my big trip to Holland, where I'll be doing several events in connection with the Dutch translation of What World Is Left, now christened Een Andere Wereld in Holland. My parents are coming, too, and will join me at most of the readings and talks I'll be doing. So, today, they came over to my house for lunch -- and to listen to me read -- in Dutch -- from the book.
The reviews of my performance were mixed. My father thought I was not very good and took too long; my mother thought I did a great job (mothers always think that, don't they?) Not to worry if you are in Holland and coming to hear me speak and read -- I still have several days to practice. I may not speak Dutch very well, but I do "fersta" (means "understand") almost everything. Which makes me an excellent undercover agent.
Do I sound excited about all this? If I do, it's because I AM! I promise to write some blog entries from Holland and to post pics, too. And I'll also be reporting on the experience for the Montreal Gazette. FUN!!!