Today was Day 2 at the Blue Metropolis Literary Festival here in Montreal. On my way to the launch of this year's edition of Quebec Roots: The Place Where I Live, I met up with YA author and festival participant Catherine Austen.
Catherine lives in Aylmer, Quebec -- so she was up at 5 this morning to make it to the festival. It's safe to say Catherine is currently the most feted YA author in Canada. Her novel, All Good Children, just won the Canadian Library Association 2012 YA Book Award and it's also up for the American YALSA prize.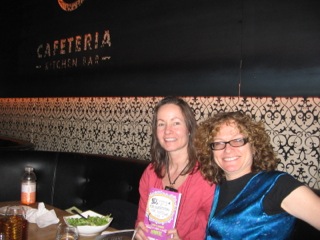 In today's pic, you can see Catherine holding up a copy of her other new book, 26 Tips for Surviving Grade Six. Only she doctored the cover for her talk at the festival today -- she changed the words to "10 Tips for Surviving the Writing Life"!
I asked Catherine whether she'd mind sharing her Number One tip and she was glad to do it. So here's her answer: "Everyone loves to laugh." She added that, "Even in a sad book, there's nothing unrelentingly bleak."
Catherine made ME laugh when she told me that sometimes, when she is working on a really emotional scene, she answers her door in tears -- only to tell whoever is there: "I had such a good day at work today!"
Anyway, it was super-fun to compare notes with Catherine. We both work with the same editor at Orca, Sarah Harvey, and we talked about how helpful it is to have a smart, sensitive editor with a great sense of humour.
Then, because Catherine had a little time before she had to catch her train back to Aylmer, she came to the launch of Quebec Roots! The book, Quebec Roots: The Place Where I Live, 2012, is the culmination of a Blue Metropolis Literary educational project that began last fall. Teams of writers and photographers traveled across the province, helping students in six schools to tell a story about their community using words and photographs.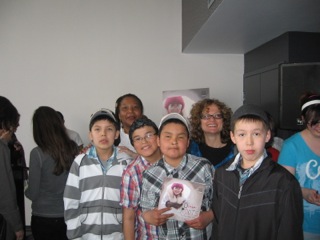 That's me in this pic with students from Ecole Luke Mettaweskum in the James Bay Region, and with their wonderful teacher Victoria Howard. Another wonderful teacher, Rose Roussy, was there too, with students from New Carlisle High School in the Gaspé. (I was sorry though that the students I worked with from FACE High School in Montreal did not make it to the launch.)
Anyway... it was a really happy occasion, and a real celebration of young people and their talent. Author Carolyn Souaid, who was also part of the project, talked about the hard work and persistence required during the re-writing stage. Just like photographers need to re-shoot their images until they get them right, we writers need to re-write, then re-write some more.
Special thanks to the wonderful dedicated people that helped make this year's edition of Quebec Roots a reality -- project coordinator and Blue Metropolis Literary Foundation production manager Florence Allegrini; Blue Metropolis Literary Foundation director William St-Hilaire; and Michele Luchs from the Ministry of Education. And thanks, of course, to all the students and teachers who participated. HEY, YOU GUYS MADE A SUPER BEAUTIFUL BOOK!!!