Today was the first day of this year's Blue Metropolis Literary Festival. I've asked all my students to try and attend at least one event -- there are loads to choose from. My Journalism class today happened to coincide with a talk by one of my favourite YA authors, Mahtab Narmsimhan, who is in from Toronto for Blue Met ... and so several students from my class and I hopped on a metro and took a field trip over to the Richmond Square Branch of the Montreal Children's Library.
In this first pic, you will see and some of my students en route to meet Mahtab. (I think they were a little embarrassed when I asked a strange man on the metro to take our pic!)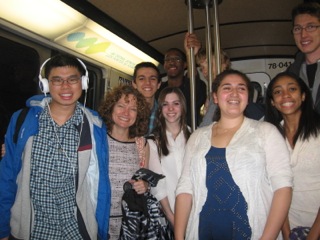 In the next pic, you too can meet Mahtab Narsimhan, who did a wonderful talk about her books, her writing process and what writing means to her. In this pic, Mahtab is showing us a tiffin, which happens to be the title of her latest YA book, The Tiffin. (In Mumbai, India, a tiffin is like a lunchbox.)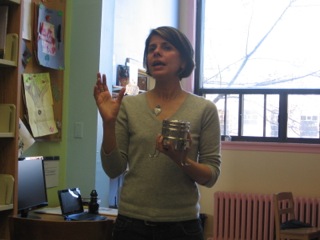 Mahtab told us many interesting and important things. She told us that as a child, she was more of a reader than a writer. Her decision to write followed her dad's death in 2003. She wrote her first novel, The Third Eye, which went on to win the Silver Birch Fiction Award, as a tribute to her dad. She made us guess how many times she re-wrote the book before it was published. None of us guessed the answer -- which was 20! "When it came out, I never read it again," Mahtab said.
The Third Eye is the first book in Mahtab's Tara trilogy. Though she didn't write The Third Eye with a theme in mind, she came to realize that, "The story is about belief in yourself." Mahtab pointed out that no matter our age, we all have fears, and that we mustn't let those fears stop us. Mahtab confided that years ago, she was afraid of public speaking. (It's hard to believe when you see how comfortable Mahtab is speaking to a small crowd at the library.) Mahtab knew she had to do something about that fear -- so she joined a group called Toastmasters.
It's obvious that Mahtab is very very disciplined. Because she works in information technology from 9 to 5 on weekdays, she has to get up early to make time for her writing. She wakes up at 5 or 5:30 and writes 1,500 words a day. "I feel guilty if I don't do it," she told us.
I was really struck and touched by Mahtab's honesty. She told us that sometimes, those 1,500 words don't come easily. "Some days," she said, "it's as if every word you write is written in blood."
It turns out that Mahtab's truthful approach during her presentations is also an important element in her writing. "The best way to make your writing shine," Mahtab said, "is to write the truth the way you see it."
Here's to Mahtab Narsimhan for sharing her truth the way she sees it -- in her talks and in her books. Here's to Blue Met for bringing writers like Mahtab to Montreal... and here's to my students for joining me on today's field trip!