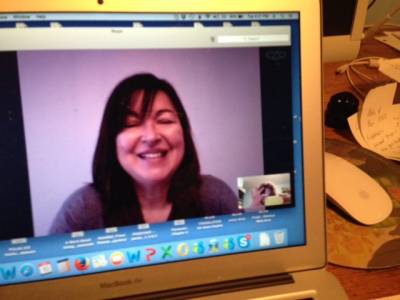 That's YA author Karen Spafford-Fitz smiling at you in today's pic. I just finished reading Karen's novel Dog Walker (Orca) and I liked it so much, I arranged a Skype interview so you could meet Karen too. (If you're looking for me, I'm in the bottom right corner snapping her pic on my iPhone!)
Karen was born near Kingston, Ont., but she now lives and writes in Edmonton, Alberta. Over the last couple of years, we've become Facebook friends -- mostly because we keep surprising ourselves with how much we have in common: we both write; Karen used to teach (I still do); we both run (and do errands on our runs); and we both love eavesdropping and coffee.
Dog Walker is about an attitude-y guy named Turk who comes up with a great idea to earn extra money: he starts a dog-walking business. But he's got an ulterior motive -- he and his friends want to meet girls. It turns out dog-walking is a great way to do that! I asked Karen how she got the idea for the book. And of course, her answer came in the form of another story (that's what happens when you interview an author!!). Here's what Karen told me: "In 1992, when my husband Ken and I got our first dog together, a German shepherd puppy, we noticed how people were constantly stopping us to admire the puppy. Afterwards, Ken asked me, 'Did you notice that most of the people who stopped us were female? Why didn't I think of that when I was a teenage boy?' That stayed with me." Fun, no?
I also asked Karen if she had some writing tips to share with you, dear blog readers -- and lucky for you, she did! "Besides read read read and revise revise revise, I tell students I work with when I do writing workshops to eavesdrop in order to pick up juicy tidbits that will help them build a better story. You should also inflict lots of problems on your characters. It's so much fun!"
Karen is also the author of Vanish -- I need to read that book next. She is completing a manuscript about the restorative justice process and though she doesn't want to say too much about that work-in-progress, she will say there's running in it.
Now if only Karen lived a little closer -- then we could go for a run, have a coffee, do errands and talk writing all at the same time. Aren't you glad you met her? I know I am!