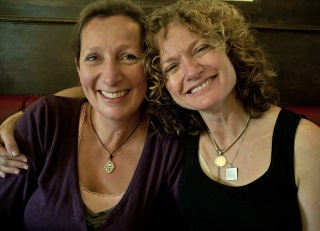 I always tell my students to avoid adverbs like "very." That being said, I am allowing myself to break my own rule today by introducing you to someone VERY special. That's her with me in today's pic: Hanneke Majoor. Hanneke translated my novel What World Is Left into Dutch, so that the book now has a new life as Een Andere Wereld.
I first "met" Hanneke late last fall (it might even have been December), when she began working on the translation. I'm sure that the two of us must have exchanged at least 50 e-mails and maybe more. Hanneke had AMAZING questions about details in the book. Often, I had to go back for answers to my mother, upon whom the story is based. My father, who handles e-mail at their house, got involved too!
But somewhere over the course of all those e-mails, Hanneke and I became friends! That was confirmed yesterday when we met in person for the first time. Have you ever really looked forward to meeting a person? If you're lucky, the person turns out to be as wonderful as you expected. But... if you're really really (today is a day for many adverbs!!) lucky, you like the person even MORE in person than you did before you met her. THAT'S WHAT HAPPENED TO ME!!
When I read aloud from Een Andere Wereld yesterday, I had the feeling that my book was even better in Dutch!! The funny thing is that if my family had not moved to Canada, I would have written the book in Dutch -- of course, then, I would not have met Hanneke!
I also had the pleasure of meeting Hanneke's husband Peter du Gardijn, whom I also knew a little because of things that Hanneke had told me about him -- such as that he got hurt last year while skating (don't worry, he made a complete recovery!). Peter is an author too. I am looking forward to reading his poetry collection Onder de Dieren and his novel Nachtzwemmen. Since they are both in Dutch, I will have to go very "langsam" (slowly)... Dutch friends, if you're reading this, please forgive my poor spelling!
Okay, time for me call it a day (another happy one!) in Amsterdam. Will try to post another update soon!