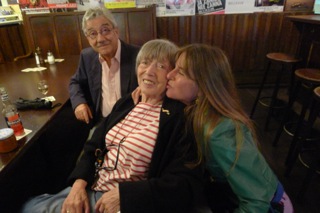 Usually, I'm the one with the notepad, scribbling madly! But this week, journalists have been coming to our hotel to interview me and my mum about Een Andere Wereld, the Dutch language translation of What World Is Left.

I included today's pic to give you some evidence of what fun we are having. In this photo, you can see my parents with journalist Marjon Kok, who came to speak to us yesterday. I just e-mailed Marjon a copy of the photo too, with the subject heading: "Do you always kiss your interview subjects -- or only sometimes?"
You see, the thing about my mum is that she is impossible to resist! And when you hear her story you understand that she went through a lot, but that she still has a great sense of humour and, this is most miraculous of all, an optimistic view of life. She is also a little wacky -- but in the very best sense! For example, the other morning, she got annoyed with my father (he was telling her what to do and she hates that) and she hit him (not very hard) with her cane! The other funny thing that happened after that was that a woman witnessed the scene and said to my mother, "Good for you!!"
Another journalist Channa Kalmann also came to speak with us yesterday -- and I'd say she was smitten too with my mum (and also kissed her good-bye!). For me, it's fun to be at the other side of the table this week. Marjon and Channa both had to rush back to their desks to write their stories; I got to relax in the afternoon and meet up with relatives and friends.
Did I already mention that I am feeling really Dutch? In Montreal, I have no cousins. Here, I have many -- yesterday, I spent part of the afternoon with my cousin Josine. We even look alike and we have similar taste in dresses! A few times, we seemed to be thinking the same thing. Her grandmother was very close with my grandmother (not only were they related, but they were good friends too) ... and at the same moment, when we were walking along a beautiful canal, Josine and I said to each other, "Our grandmothers would have been happy to see us here now!"
Some days are difficult, of course; some days, everything feels like a gift. That's what the last few days have been like for me. Wishing you, dear blog readers, days that feel like gifts!