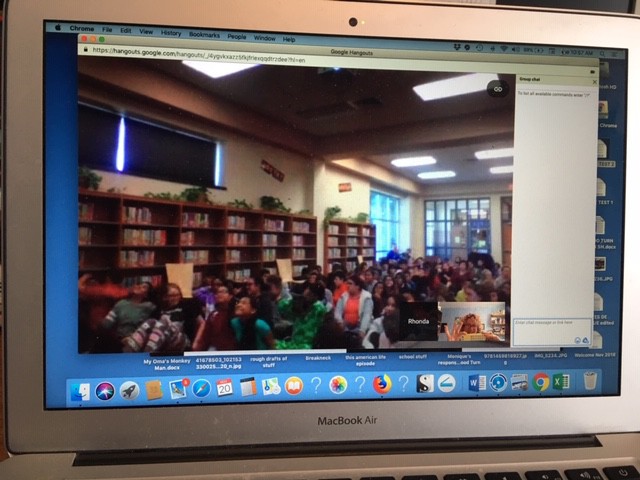 It's been a busy day -- but like the title to today's blog entry says, I left my heart in Dumas, Texas.
That's because I started the day with two virtual visits to Grade Six classes at Dumas Intermediate School in northern Texas. I've been doing virtual visits to Dumas for several years, and they've always been wonderful... but today was extra-wonderful. I think it's because the students were so well-prepared and had such amazing smart and sensitive questions.
As usual, I started with some writing tips -- but the main reason I was asked to speak to the students was to talk about the Holocaust and my novel, What World Is Left, which is based on my mother's childhood experience in a Nazi concentration camp. My mom died almost two years ago -- but when she was alive and well enough, she used to join me on my virtual visits to Dumas. In fact, as I told the students today, her favourite part was remarking on how handsome the boys were. My mom was a real character, who had as we all do, good and bad traits. One of her best traits was that she loved meeting new people -- and even well into her 80's, she continued to be a big flirt!!
As I explained to the students, my mom kept the story of her Holocaust experiences a secret for more than 60 years. I'm the one (snoopy and determined could be my middle names) who forced my mum to share her story. Though it was hard for her to do, I think she was glad to have unburdened herself, and I know she felt that it was important for the next generation to learn the truth about the Holocaust. As I told the students today, when we hear the number six million (the estimated number of Jews who perished during the Holocaust), we get overwhelmed by the huge number. But when we hear one person's story, we can take it in and be changed by it.
The students had so so many great questions. I don't have room to tell you all of them here, but I'll give you a few examples.
Abraham asked, "Were you sad when you learned your mom's story?" My answer is a bit complicated, but I tried to be as honest as possible. Of course, I was sad to know how much my mom had suffered, but you know what? Part of me -- the writer part -- was excited and even happy to be getting such amazing, important material that I hoped to be able to share with readers.
Kennedy wanted to know, "How did the Holocaust affect your mom as a person?" I told Kennedy that my mom could never stand in a line -- I think that that's because at Theresienstadt, my mom's concentration camp, the prisoners had to line up for everything. Also, my mom could not stop eating cherries when they were in season. Cherries were her favourite fruit, and I think that when she had them, she remembered the years of starvation during the war. But as I explained to Kennedy, the Holocaust also affected my mom in positive ways. She was the free-est person I have ever known. She didn't give a hoot for what other people thought. I think surviving the Holocaust made my mom so free.
Linday wanted to know how it felt to publish my first book. That was easy for me to answer. It felt amazing!
Collin wanted to know, "What are your favourite stories to write about?" Ohh, I loved that question. I told Collin that my favourite stories are about people who find the courage to face big challenges. And people who are loving and who can still maintain a sense of humour during hard times.
I'll end with Alan's question. He asked me, "Did your dad ever tell you his story?" I explained to Alan that my dad, who is half-Jewish was not sent to a concentration camp. Instead, he was hidden on a farm in Holland. I told Alan that every time I ask my dad, who is now nearly 88, but in amazing shape, about his wartime experiences, he just makes jokes. I think that's his way of avoiding my questions. So, you know what, Alan? Your question reminds me not to give up on trying to learn my dad's story too.
My heart feels very full from this morning's visit to Dumas. Kids, you were such an attentive, kind and open-hearted audience. Thanks for those questions, which really showed me what smart, good people you are. You made me feel more hopeful about the future of our world. Thanks to Mrs. Craigmiles for the invite; thanks to Mrs. Artho for the technical support; and special thanks to your teachers for preparing you so well.
I really do feel like my heart is with you all in Dumas. Lucky me that I got to cross paths with all of you! Now, go and uncover some secrets -- and turn them into books of your own!!