I've had a busy, but exciting day at Forest Hill Senior Elementary in St-Lazare, which is about a 45-minute drive west of where I live in Montreal.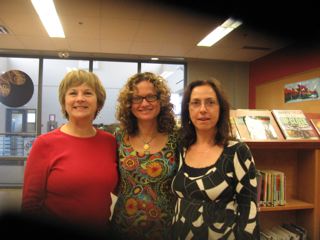 In today's pic, you'll meet a couple of my new friends: librarian Maria Cavaiuolo who invited me to visit, and Grade Six English teacher Jean Sancton. But I also made over 100 other new friends -- the grades six and five students with whom I worked today.
Miss Sancton's students have been studying the Holocaust and they were especially interested to hear about my book, What World Is Left, a historical novel based on my own mum's experience in a Nazi concentration camp. Of course, that part of my presentation was pretty serious, but we also had some fun moments.
I told the students that writing makes me happy. That made me think of asking what makes them happy. Jared said "P53!" (he had to explain to me that that's a video game); Ryan said "Pizza!" and Mattias gave an answer that made me think he may have the writing bug, too. He said, "Listening in on my brother's conversations with his friends!" (Hope your brother isn't reading this, Mattias!)
One of the highlights of my day was lunchtime... that's because I ate my sandwich in the company of 17 aspiring writers who all had good questions for me. One of them, Michael, was actually working on his manuscript during lunch! A student named Amy told me she's written four manuscripts, one with the intriguing title, "My Brother is an Alien." Amy also told me the fun news that her mom Fiona is one of my fans!
But I want to end today's blog entry with a comment from a student named Victoria. I'd been talking about the book based on my mum's past, and about using trouble we've experienced to bring our own stories to life. Victoria asked, "What if you don't want to remember the trouble?"
If you know me, you will know that I usually have a quick answer to most questions... but this time, I didn't. In fact, I'm still thinking about what you asked, Victoria. But I think my answer to you has something to do with the passage of time. Sometimes, we are not ready to remember a difficult time. Sometimes, as time passes, we grow more ready. Sometimes, our daughters who happen to be writers give us a push. But as I told the students, I'd say that overall, my mum is glad she told me about what happened to her in Theresienstadt. She says that if her story gives young people hope, well then, that's what is most important.
Tomorrow, I'm heading back to Forest Hill to work with the Grades 5 and 6 students I did not see today. Plus, I'm hoping to have more good company at lunch! Thanks to all of you for such a stimulating, fun day! Hope you learned a lot -- and caught the writing bug!!