Today was my second visit to Forest Hill Senior Elementary School in St-Lazare.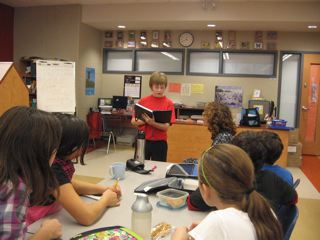 I suppose you want me to explain what's going on in today's pic! Librarian Maria Cavaiuolo took the picture during lunch. (There's usually no eating allowed in the library, but she bent the rule for I Love to Read Week!) The young man in red is Harrison, who was reading a story he wrote (last night) about a family's misadventures in the Grand Canyon! (Wonder where he got that idea?!) Anyway, I asked Harrison to read half a page of what he'd written, but his story had so much suspense we made him read till the end of what he'd done... a page-and-a-half. I really like his characters and his setting, but I suggested Harrison do some research in order to add a little more DETAIL. And I thought he might try adding some DIALOGUE to his story, too. Dialogue adds DRAMA (that's why plays are basically all dialogue).
We had a second reading, too, this one by Madison and Victoria, who'd worked on their own first chapter of a story. Theirs has lots of dialogue (good work, girls!), but interestingly, it has a little TOO MUCH detail. I was explaining to the students how earlier this week, a photographer friend of mine, told another class how anything that does not belong in a photo DETRACTS from the photo. The same rule applies to writing. If a room has a stripe on a wall, only tell us if it MATTERS, if it TIES INTO YOUR STORY. Madison and Victoria, I hope you'll continue with your story, too. I'm really curious to know more about how the dad's situation affects the other family members.
After lunch, I worked with two lovely groups: Miss Kim's Grade 6's, and then Mrs. B's Grade 5's. A student named "Cat" (cool name, no? it's short for Catriona, which is also a cool name!) agreed to take notes for all the others. One of her classmates, Lorenzo, told me a story that made my arms tingle (that happens when I hear a great story!). His great-grandfather (after whom Lorenzo is named), who lived in Italy, was a prisoner during World War II. Every day that he was held prisoner, his captors pulled one of his teeth. It's such a terrible shocking detail, but one that I will never ever forget. We writers really need to select details that help us tell our stories -- and that will make our stories part of our readers' lives.
I thought Mrs. B's Grade 6's might get a little antsy. It was Friday and the last class of the week -- but you guys were super wonderful, and I thank you for being so attentive and fun. Thanks to everyone at Forest Hill Senior, especially Maria Cavaiuolo. I'm excited that you guys have posted so many comments on yesterday's blog entry. Tomorrow, I'll make some time to begin answering your many good questions! Look for my answers in the comment section of these blog entries!