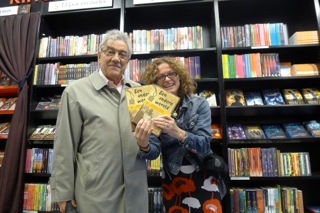 Hello hello, blog readers! First, for those of you in Holland, I hope I haven't misspelled "nieuws" -- if I did, send along the correction as soon as possible, okay?
This week continues to be oh-so-wonderful. That's me and my dad in the first pic. We went for a walk yesterday in Amsterdam and when we passed a bookstore, it was his idea for me to go in and ask whether they had Een Andere Wereld -- and as you can see, they did! On our walk, my dad said, "Imagine what it means to us that we left Holland more than 50 years ago and now to have our Canadian daughter publish a book in our language." Also, if you ever wondered where I get my wild hair from, now you have the answer!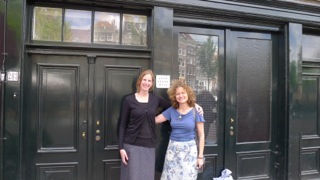 This second picture was taken today at the Anne Frank House in Amsterdam. I am with my friend Lies Schippers, project manager for the department of education at the Anne Frank House. I'd met Lies in Montreal a few years ago when she came to talk about The Search, a graphic novel she co-authored.
It was Lies who invited me to the Anne Frank House today for a series of meetings. First, I met with Lies and Teresien de Silva, head of the collections department. Together, the three of us talked about the connection between objects and people and stories. As Teresien told me, "Sometimes you don't know what a seemingly insignificant item can mean."
Later, I met with about a dozen educators working at the Anne Frank House. They included Doyle Stevick, a professor from the University of South Carolina, who is spending a month in Amsterdam. "In education," Stevick told me, "we know how to transmit facts, but changing attitudes is very difficult. The Anne Frank House does that as well as any place I have seen."
Over lunch, Lies described how she and her team work together to create their graphic novels. She says that the process "from conception to birth" takes about two years and involves many meetings. The team begins by identifying the theme they want to work on, then they move to character and plot. Sometimes, there are disagreements. "But," said Lies, "we always look for consensus. I think that's a Dutch thing."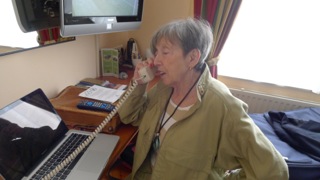 This afternoon, I took the train to Zutphen where I met my parents (they came by car from Amsterdam this morning). Why, you are probably asking, have I posted a pic of my mum on the phone? That's because I rushed from the train station to the hotel to do a radio interview (partly in Dutch!!) for Omroep Vlardingen. At the end, the host asked to speak to my mum -- and I wanted to record the moment because she was just wonderful. Imagine that she said on live radio, "My daughter is a good person -- and good-looking, too!!" (I think I've warned you that she is a little wacky!!)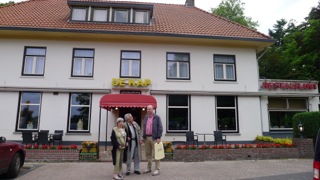 And in today's last pic (don't worry, this blog entry is almost over!!), you can see my parents and Christiaan te Strake, the curator of Musea Zutphen, where I will be speaking tomorrow night. Zutphen is the birthplace of my opa (that's the Dutch word for grandfather), the Dutch artist Jo Spier.
My talk coincides with a retrospective exhibit of my opa's work together with the work of another Dutch artist, Peter Van Straaten, whose work was heavily influenced by my opa's.
Today's pic is taken in front of a restaurant just outside of town. My mum remembered this building fondly because many years ago, her grandfather lived here. It was, I gather, a kind of seniors' residence in the days before there were seniors' residences.
Christiaan knows so much about my opa! At one point, my mum was telling a story and she said to Christiaan, "Don't think I'm obsessed with my father" -- to which Christiaan responded, "But I am!"