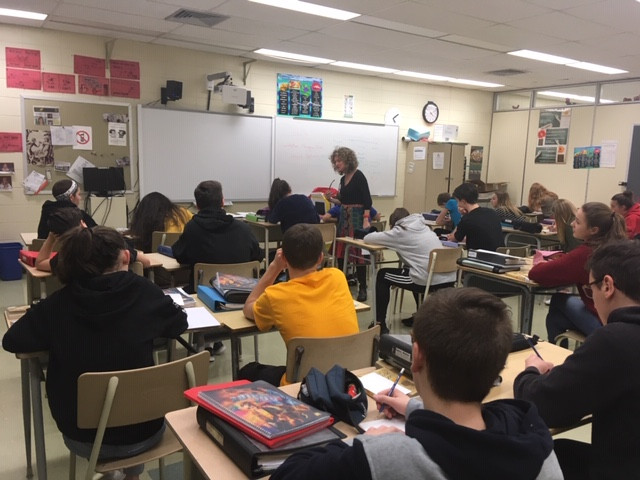 Hello hello... or perhaps I should say bonjour bonjour! I'm at the train station in Quebec City, about to head home after a fun, busy day doing writing workshops with students at Ecole Sécondaire de la Seigneurie in Beauport. I worked with three groups of secondary III students. English is a second language for these students -- but they're very good at speaking and writing it.
All of the students are reading my historical novel, What World Is Left, so besides sharing my usual writing tips, I told the students the story behind the book... and why it was such an important project for me personally. I also told them my favourite story -- it's about the monkey man charm I wear on my necklace.
Here are just a few of the highlights of today's visit --
With the first group (their teacher is my friend Mr. Lord), I talked a little about bilingualism. I told the students a line I read recently which really touched me: "Every time you hear an accent, it's a sign of courage." NIce, don't you think? I know that I have often felt embarrassed about my English accent when I speak French, but I DON'T LET THAT STOP ME!!
Mr. Lord had asked me NOT to speak French with his classes, but once in a while, I snuck in a French word. When I was discussing the importance of revising our work, I used the word "brouillon" which means "rough draft" in French. I told the students that I much prefer the sound of the word "brouillon" to :"rough draft." Brouillon sounds rougher, don't you think?! (I know my first drafts are VERY rough.)
The second class was with a lovely substitute teacher named Laurie. With that group, I talked about how it has been possible for me to turn something I love (writing) into a career. Afterwards, a young man named Matthis told me, "It isn't always possible to follow your passion." Matthis went on to explain that he'd had to give up his dream of becoming a professional hockey player: "It's because I had three concussions and I work after school at Provigo." But I think I may have come up with a solution for Matthis. What about writing a book about a young hockey player who has had three concussions and works part-time at the local grocery store? You know, Matthis, there is a big market for sports stories for teens... and I think you could turn your story into a book. I bet a lot of young people would be interested in reading it. And of course, I want to read it too!
Here's a little shout-out to a student named Tommy-Lee Tremblay. I just want to tell you that you've got the kind of name that belongs on a book cover. (Or else maybe I should have a Tommy-Lee Tremblay as a character in one of my books!)
Students in the last group (also Mr. Lord's students) had heard that I had discussed body language earlier in the day -- so I showed them some of my tricks for analyzing body language. I explained that writers use body language in our stories. It's one more way to bring characters to life. I told these students that I always hate my frist drafts. I asked them if they ever love anything they write when they first write it. A student named Louis said: "Sometimes I write one sentence and I think it's fantastic."
I told Louis that I think that means he MAY NOT be a writer... but you know what, Louis? Here I am on the train (I forgot to mention that I boarded a while ago and am now writing from my seat)... and I'm thinking maybe I was wrong. Maybe you're just lucky -- and talented. Good for you that you think some of your sentences are fantastic, even before you rewrite them. Now the trick is to work on your OTHER sentences -- the ones that may not be quite so fantastic -- and turn them into something beautiful too.
Thanks to the students for being smart, lively, open and great listeners. Thanks to Mr. Lord for the invite. Catch the stories, talk to old people and find out their secrets, then take the stories you catch -- and share them with the rest of us!