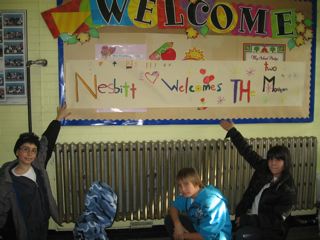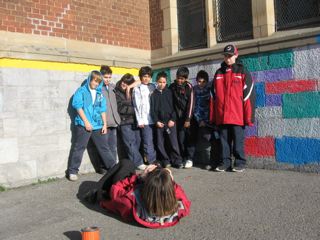 I think I've told you that this year again, I am working on a Blue Metropolis Literary Foundationproject called Quebec Roots. For the project, writers and photographers visit Quebec schools and we help classes produce their own chapters in a book that will be published this spring and launched at the 12th Annual Blue Metropolis Literary Festival.
Today, my photographer friend Monique Dykstra and I went to meet the group of Grade Six students we will be working with at Nesbitt School here in Montreal. We had already met the students' smart and lively teacher, Mrs. Childs. She teaches the senior Resource Class and all of her students have special needs, meaning they need a little extra help when they learn. What Monique D and I quickly discovered is that this gang of students is indeed VERY SPECIAL. We knew that as soon as we got up to Room 36 and saw they had made a banner and hung it right over the classroom door so we wouldn't miss it! (There was another banner downstairs, which we did miss -- until we left the building at the end of the day.) Also, these kids are all super eager to express themselves both through writing and photography.
I helped students produce a few "group poems." I asked them about their lives in school and showed them how to turn their answers into poetry and prose. They came up with some lovely stuff. One boy was describing his homeroom teacher and he said about her: "Miss Joyce smells like nice handcream." I thought that was a great use of detail. Even though I never met Miss Joyce, I can smell her!!
Monique D was impressed by how quickly the students mastered basic photography principles. I was walking down the stairway with a student named Sharon (there are two Sharons in the class and one's a boy who is quite keen on writing) and I said to Sharon, "Why don't you take a photo of that old radiator?" She looked at me and said, "No way! The light's not right!"
So today, I want to say three cheers for the Senior Resource Class at Nesbitt School. You guys are definitely special. We really enjoyed meeting all of you today -- and we can't wait to read your writing and see your photos!
Oh, check out today's pics. That's Monique D taking a picture of the students. Proof that photographers sometimes need to get their coats dirty if they want to get an interesting angle!! And the banner is the one that was hanging by the school entrance. I know, I know, how could we have missed it?
Thanks to Mrs. Childs for being such a good role model not only for your students, but also for us Moniques. We're all, each and every one of us on Planet Earth, special, don't you think?