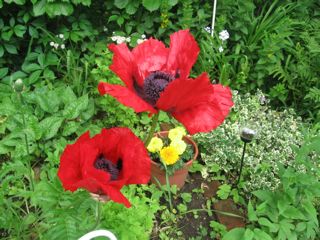 The title "Tea Time" means things are going well today in this writer's life. The sheets are hanging out on the clothesline (do you already know that I have an obsession with clotheslines?), the poppies have bloomed in our back garden, and I'm on my third, or perhaps it's my fourth cup of green tea... which tells you I've been sitting at my computer, fiddling with Chapter Three of my new manuscript. I'm not saying it's good, but I have the delicious feeling that it is GOING SOMEWHERE!
Of course, I've been through this process many times, and I know there'll be many hard days, too -- probably more hard than pleasant days -- when I'll feel lost and I'll question what I'm up to. And you know, I'm going to solemnly promise you that I will write a blog entry the next time I have one of those lousy days, too, since it's important (especially if you're an aspiring writer) to know that this is all part of how things go when a person sets out to write a book.
Last night, I read a lovely essay by Ojibway author Richard Wagamese. The piece was published in WRITE, the Writers' Union of Canada magazine. Wagamese describes what drives him to write memoirs: "Craving. An inner hunger to confront all the things that confounded, frustrated, angered, healed, calmed, pacified and nurtured me." Though what I'm writing is not memoir, I could relate to Wagamese's words. In the end, I think writers write because we can't stop -- because writing is our way of making sense of things.