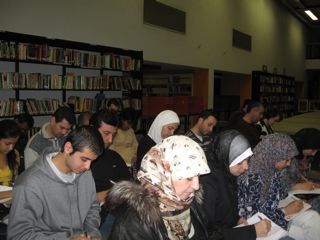 Lately, I've been telling students how to me, the air feels thick with stories. What I mean is thereare stories everywhere; the trick for us writers is to find the ones we most need to tell.
I spent this morning working with about 75 adult education students at Pius X Adult Centre. I talked a little about how I do the work I do, where I get ideas for my books... but my favourite part of the session was when the students did a little writing and I got to hear some of their stories. In fact, I have so much to tell you, it's hard to know where to begin.
A student named Jia wrote about her memories of the airplane flight when he left China to come to Canada. She said she was "happy and sad both," which I thought was a wonderful description of mixed feelings. Jia was excited to be starting a new life, but sorry to leave many of her loved ones behind in China.
A student named Subramaniam remembered experiencing a cyclone in Sri Lanka. After the tragedy, he and his family had to live for a while in a tent.
Manowara, who was born in Banagaladesh, wrote about her memories of her homeland. She came up with my favourite line of the day: "My country has six seasons." I told Manowara that if she writes a book and starts it with that line, I definitely want to read it!
A young man named Vatsal remembered living through an earthquake in Gujrat, in northern India. Oddly, that earthquake occurred exactly eight years ago today -- on January 26, 2010.
Our memories are an important source of stories. Here's my rule of thumb: if you remember something from your past, it's probably important, so YOU'D BETTER WRITE ABOUT IT.
Many thanks to the students at Pius X for sharing their stories -- and to librarian Cathy Boyle for organizing the visit!