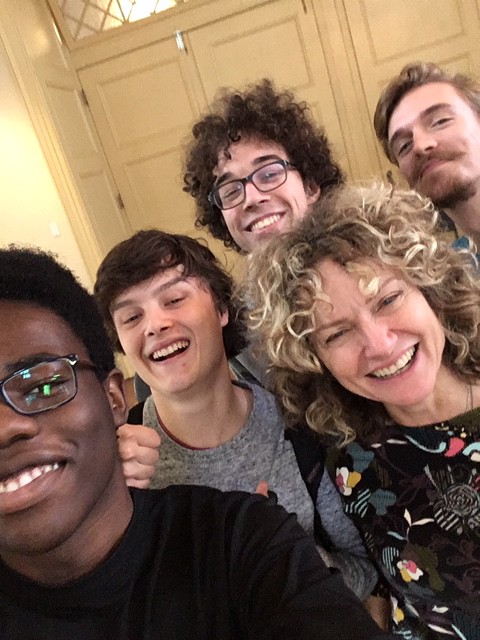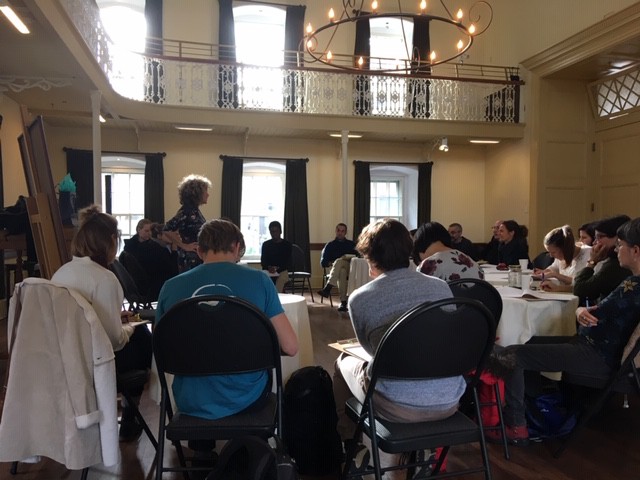 "The Bilingual Mind" is the name of a writing workshop I did yesterday at the beautiful Morrin Centre in Quebec City. The activity was part of Théatre La Bordée's Enjeux en Scène program. Since the subject was bilingualism (inspired by Larry Tremblay's play The Dragonfly of Chicoutimi which starts its run on Tuesday at La Bordée), not only did I present in two languages, but the 21 participants did writing exercises in our country's two official languages -- and even in some extra languages! BONUS! One participant wrote in Spanish; another taught us some Farsi words; and Martin told us why he got hooked on sign language!
The goal of the workshop was to jumpstart participants' writing projects, and to get us all to reflect on what it means to have a bilingual mind. The participants were of all ages and backgrounds. Among them were scientists, several translators, two journalists, a painter, a poet, and a group of students from Cégep Garneau (they admitted they were there for a class assignment, but I want to tell their teacher Tracy Burns that they were super fun and super smart -- that's a few of them in today's first pic).
Because I'm interested in "mining" memory, I asked everyone to write about two memories -- a time when they first learned something (it didn't have to be another language), and a time when learning a new language was difficult or frustrating, or made them feel small.
A few years ago, I met a researcher who was in Quebec from France -- and she told me something I have never forgotten -- that a sign of true bilingualism is when, in your brain, you actually think in two languages. Maybe that's why I was so moved by something a woman named Madeleine (she's the painter) wrote: "Chez mes parents/ Our house must have always smelled like dog." I love the easy movement from French to English and I love how Madeleine "takes us there" with the sense of smell. I also love the simple beauty of the language Madeleine uses.
Most of the books written in more than one language are teaching manuals. I have a hunch that the time is right for Canadian literature that is truly bilingual. I'm not sure what shape that kind of literature will take, but something tells me it's coming.
At the end of the workshop, we produced a group poem, which I'm going to share here. Ready?!
I wish I spoke German
So I could speak to Germans.
Speaking new languages
Nous fait rencontrer le monde.
Learning French has improved my English.
I never expected that to happen,
But it did.
It was a happy surprise.
Did you know the word "finger"
Comes from the Farsi word "panjeh"
Which comes from the Farsi word "panj" which means five?
Hey, "panj" sounds a lot like "phalange"
Which means finger bones in French!
Music is a universal language.
When I play the piano,
I feel like I am communicating mes émotions.
Then there's sign language
Which is personal and organic.
We use our bodies --
Every twitch, every hesitation ... means something.
Sometimes language is a barrier.
Sometimes language is a gateway.
C'est à nous de choisir.
So? Pretty beautiful, don't you think? I'll be back in Quebec City on November 12 for an event called "Cohabitation linguistique. It takes place at Théatre La Bordée. I'll be on a panel with Kevin McCoy, Lauren Hartley and YA author Catherine Dorion. Many thanks to Rosie Belley, La Bordée's special projects coordinator; and La Bordée's artistic director Michel Nadeau, for inviting me to take part in these events and for welcoming me and my bilingual group to the Morrin Centre yesterday. Thanks, of course, to the Morrin Centre. And thanks to everyone who took part in yesterday's workshop. I know YOU were supposed to learn and have fun, but I know for sure that I learned and had fun!! Looking forward to seeing some of you again on November 12. In the mean time, let's make language a gateway!!!