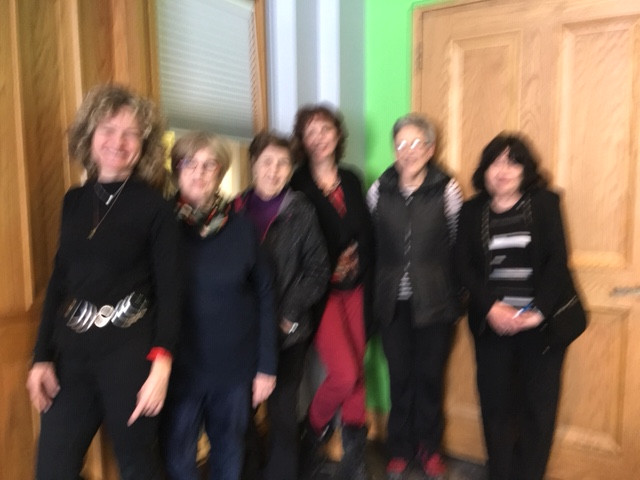 First of all, sorry for the blurry pic.
Second of all, you'll want to know who those blurry faces belong to! Those are some of the participants from this afternoon's storytelling workshop at the Eleanor London Library in Cote St. Luc. I was there for an exciting Blue Metropolis Literary Foundation project called Simply Hilarious. Actor Fanny La Croix and I are working with three groups of seniors, helping them write and perform stories for an upcoming festival event.
The title of today's blog entry is "The Universe is Made of Stories." I heard someone say that on the radio last week (only I have to admit I didn't catch who it was who said it)... but the person said most people think the universe is made of atoms, but it's really made of stories. I like stories more than atoms myself!!
Today's participants came up with a lot of funny stories. Sylvia told one about crawling into bed with her six-year-old grandson. Estelle's was about being suspected of smoking marijuana. Marlin's was about her father, whom she described as "the most eccentric person in the world." Laura's was about an awkward moment on stage in the Catskill Mountains. Leah's was about falling on the ice (a lof us in Montreal have been doing that lately). And Dinah's story helped us understand why her childhood nickname was Dynamite!
I don't want to give too much more away about the stories, since I'm hoping you'll be in the audience this May, when the stories will be told live!
Fanny wasn't with us today, but she'll run most of next week's workshop at the library, teaching participants performance strategies. I'll be in the room, working quietly (I know what you're thinking! Monique -- quiet? Yes, it's possible!).
Before I left today, I took a few moments to ask the participants what they got from the workshop. Estelle, who is part of the Montreal Storytellers' Guild, said she'd like to see an ongoing storytelling circle at the library. Marlin said, "You know what I liked? I liked everybody's stories!" Me too, Marlin!
My friend Myra, who is also a writer (in addition to being a lawyer) was there with her mom Dinah (AKA Dynamite). I'll finish today's blog entry with Myra's observation: "Everybody has a story. Sometimes, you have to excavate to find a story."
So here's to excavating for stories! Thanks to the library's Danielle Bélanger for helping to organize today's workshop. Thanks to Blue Met for making the program possible. And thanks especially to the storytellers. See you same time next Sunday!