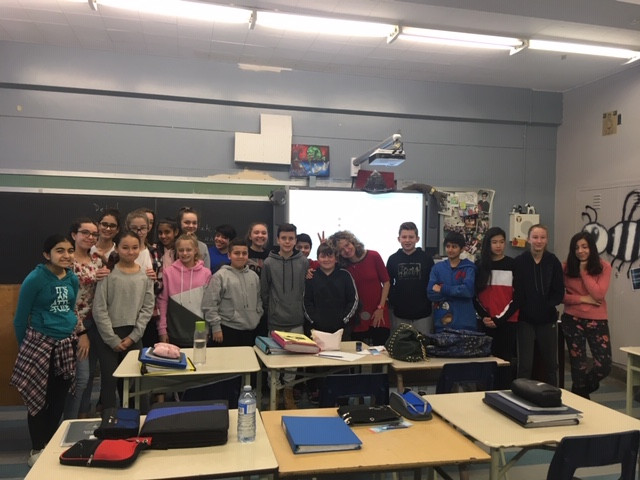 That's me in today's pic with Miss Canci's second period Grade Seven class at St. Thomas HIgh School. I've got my arm around Justin, who turned out to be a prize pupil -- even though his initial body language (remember my obsession with body language?) suggested he might have preferred to be hanging out with his friend Tommy rather than meeting a writer for kids!!
During the short writing exercise I did with this class, the students wrote about a memory from when they were five years old. Justin turned out to be an excellent writer! He wrote about his fifth birthday. He was lying in his bed when his mom came in, "holding my favourite cake even though it's breakfast time." Great use of detail, Justin! You managed to capture the birthday mood, and also you show the reader than you have a fun mom.
After that session ended, a student named Kyle wanted to talk to me about having too many ideas. I told him I don't think too many ideas is a problem -- too few is a problem I wouldn't like to have! Kyle told me, "Sometimes ideas just fly through my head and I'm not fast enough to grab them." I just LOVED how that sounded, and I suggested to Kyle that he start writing a poem ASAP about flying ideas. You have a lovely, poetic way of expressing yourself, Kyle. Use it!!
I also worked with Miss Canci's third period Grade Sevens, and I finished the morning with Mr. Cloney's Grade Seven class. When I showed the students the journal I write in every day, a lively, enthusiastic student named Sofia told me she uses a diary for problem-solving. "I used to write in it every time I got into a fight with a friend," Sofia said. Great idea to use your journal to work through personal troubles,, Sofia... but here's another suggestion for you: make sure you also use your diary when you feel happy. That way, when you look back at it one day (everyone who keeps a diary eventually looks back at it), you won't think all you ever did was get into fights with friends!!!
I'll end today's blog entry with something funny. (I love funny stuff.) I was telling the students about how I did the research for my book Straight Punch by signing up for boxing lessons. So I asked them, "What do you think I brought with me every day to the gym?" (The correct answer was pen and paper by the way.) A student named Leo called out, "A protein shake!"
Thanks for the laugh, Leo. Use your sense of humour in your stories. Thanks to Miss Canci and Mr. Cloney for sharing your kids with me. Thanks to Mrs. Pye for the invite. And thanks to the kids for being a wonderful, fun and focused audience. Now get to work on your stories!!