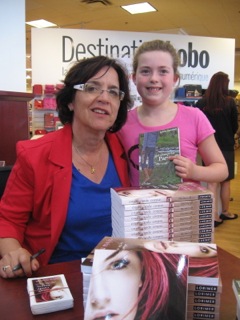 That's prolific and super fun YA author Sylvia McNicoll with her fan Sidney in today's pic.
Sylvia was at the Chapter's Pointe-Claire store on Mother's Day to launch her latest YA novel, Crush. Candy. Corpse. Great title, n'est-ce-pas?
Sylvia brought a batch of Mars Bar squares with her from Toronto. She used the squares and her books to entice young readers over to her signing table! Though Sylvia was busy meeting readers, I did manage to slip in a question just for you, dear blog reader. I told Sylvia how I collect writing tips, but that because I've been doing this for some time, she had to come up with a really cool one. Sylvia did not let me down. Here's her tip: "My newest tool for writing is a camera. It helps me improve my descriptions. I've never been too good at descriptions." Hey, Sylvia, I think I'm going to try out that tip myself.
I also chatted up Sylvia's kind husband Bob. I asked him whether he had tips on how to stay happily married to a writer. (Bob and Sylvia have been married for 38 years... though they had a small dispute about how many years it had been exactly. In the end, Bob got the number right.) Here's Bob's advice for people who are married to writers: "Be flexible, be supportive, and not too critical!"
When Sylvia overheard our conversation, she nearly forgot all about her Mars Bar squares and her young fans. It turns out that Sylvia had her own advice for spouses of writers: "Never be the first reader. If you read it, say, 'It's wonderful!' Anything else is risking your marriage!'"
That's it for today's blog entry. I'm about to go cuddle up with Crush. Candy. Corpse.