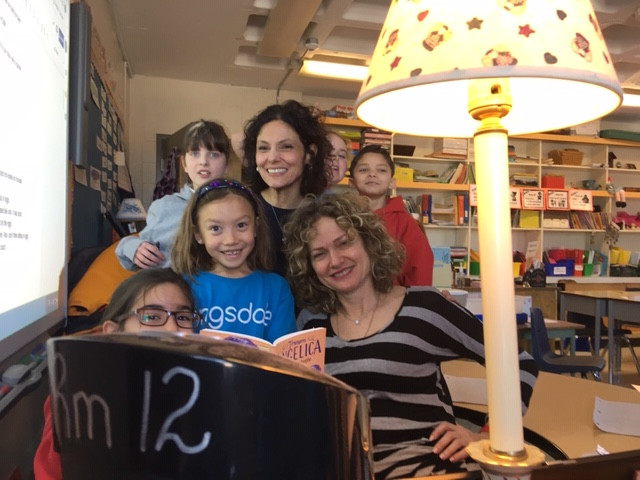 Today, photographer Pierre Charbonneau and I got to go back to Grade Three -- and it was FUN!
We were at Kingsdale Academy in Kirkland, working with Miss Arcamone's classes. It was our second visit. Pierre and I were at Kingsdale for the Blue Metropolis Literary Foundation's Quebec Roots project. We are part of a team of writers and photographers working with students across the province, helping them to produce a chapter for this year's edition of Quebec Roots.
It's up to the students to choose a subject for their chapter. In the fall, these kids decided they wanted to write and take photos of the geese who visit their playground. The students have been writing stories and taking photos in preparation for today's visit.
Pierre began by explaining that we need MORE photos -- and that he'd like to see some photos of KIDS, and not just GEESE!!
I showed the students how I go about editing writing. We put their words on the screen, and I got right to work, tightening up the language, and making some sentences shorter and more clear.
Because we needed some more written material, I threw out a few topics for the students to work on in small groups. One topic was A GOOSE REPORT CARD. Though I give myself credit (good work, Mo!) for coming up with a fun topic, the real credit goes to the kids who did a wonderful job writing goose report cards. I have to admit I cracked up while I was putting it all down on the computer, and editing their material. I shouldn't be giving away too much -- but how about I just give you one of my favourite lines from the goose report card? (The line appears as a comment after the goose student's French grade. Oh, I forgot to tell you that the student named their goose student Stinky Honkalot!)
Ready?!
Here goes! (If you want to read more, you'll need to get yourself a copy of Quebec Roots when it comes out in the spring)...
"When it's time to hand in his devoirs, Stinky Honkalot flaps his wings and blows all the papers off his teacher's desk."
Did you chuckle too?
Before Pierre and I left today, I asked the kids to tell me what they learned about writing. Tristan said, "We need to use our imagination." Ava said, "I learned the word skein means a group of geese flying in the air." And Gacia, who was my personal computer assistant today (thanks so much, Gacia!), said, "I learned that you need to change some words to make your writing better."
Thanks, Ms. Arcamone, for being YOU (hey, I forgot to tell you that Ms. Arcamone is the beautiful dark-haired woman in today's pic); thanks to Pierre for being my partner at Kingsdale; and special big thanks to the kids for being fun, and hardworking and making me laugh! Maybe we'll see you guys at the book launch!!