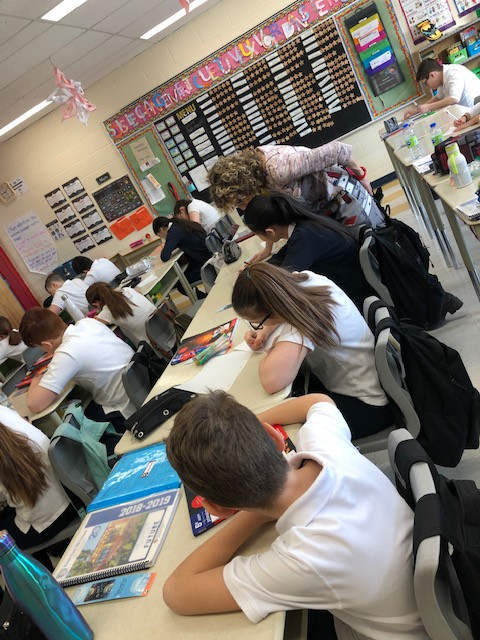 Hello hello, blog readers! I've been working with writers all day -- I started the day at East Hill School in Rivière-des-Prairies, then went right to Marianopolis College to work with my "regular" classes.
It's been extra-fun working with Grades Five and Six students this week since, in my Writing for Children class at Marianopolis, we're working on middle-grade novels, so the East Hill students are exactly our target population.
Today, at East HIll, I worked with Miss Veronica and Miss Diane's classes. Miss Veronica took today's pic which makes me happy because there is nothing a writer likes to see more than young people WRITING! Thanks, Miss Veronica, for taking the pic -- and also for being such an enthusiastic member of the audience today!
I thought I'd use today's blog entry to share a few highlights from my morning at East Hill. Here goes!
A Grade Six student (Miss Veronica's class was a Grade Six group; Miss Diane's were Grade Fives) named Emma told me she wants to be a chef. When I explained that writers need to be readers, Emma understood the similarity between writing and cooking -- you need to try out other people's recipes! Just like writers need to read other writers' stories!
Amanda, another Grade Six student, came up with a wonderful neologism (a neologism is an invented word) to describe her first day of school when she was five years old: "I was nercited." Nercited, Amanda explained to me, is a mixture of nervous and excited. I love that word, Amanda! In fact, I vote for it to be in the dictionary!
When I asked the students to come up with a book blurb for the book they most want to read, Alessia wrote this: "I'm at a wedding with my sisters and brothers. It's actually a wedding on a different planet." Very cool, Alessia! And a student named William came up with this blurb: "When a kid and his family are living in Italy, they're super poor. They move to New York, but while they're aboard the boat from Italy, a strange guy comes up and leaves the kid with no more family because the guy murders the rest of the family. Later, the kid grows up and goes for revenge." Wouldn't you want to read that book?
And a student named Nicolas made me laugh when I asked if there was an 'h' in his name. "There's no 'h,'" he told me, "otherwise, it would be nich-olas." (If you didn't laugh maybe it's because it's one of those you-had-to-be-there jokes!)
Miss Diane's Grade Fives were just as lively and interested as the Grade Sixes I worked with today. For her book blurb, a student named Sarah wrote about an imaginary character named Ella who "went though a tough time. Her grandfather was dying and she was extremely close to him. She felt like she was all alone." I asked Sarah whether she had ever experienced the death of someone she loved, and she told me that she had. Though I'm sorry Sarah has had to go through that experience, I also told her that that difficult time has given her important material to work with -- and to turn into an important story that other kids will need to read.
And just to end this blog entry on a lighter note, a student named Jack asked me a question I've never been asked before! He wanted to know, "When you publish a book, do you get a free copy or do you have to buy it?" The answer is I get TEN free copies! (I usually give them to my friends and family.)
If it sounds like I had fun at East Hill, it's because I did. Many thanks to the teachers, to librarian Miss Ida for the invitation, and to the kids for being smart and fun. I'll be back at Easthill on March 27. Hoping to see some young writers at recess to hear -- and perhaps even read -- what they've been writing this week!