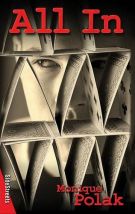 Publisher: James Lorimer, 2006
Todd Lerner's not much of a student, but he's got plenty of street smarts and a mean poker face. Todd's got his eye on Claire, the most beautiful girl in grade eleven. But Claire likes nice things, and if Todd wants to date her, he'll need cash and plenty of it.
A weekly poker game soon turns into a costly and dangerous obsession, and Todd's luck begins to change. Inspired by true events, All In journeys into the high-stakes world of gambling, addiction, and fraud.
--"Polak's attempt at tackling a topic which has received limited attention in YA novels is commendable. Her work prompts adults working with teens to realize that gambling addiction is not a social problem with which only adults and seniors wrestle." – Canadian Bookseller
--"Told in the first-person, this well-paced tale is full of valuable life lessons." – CM Magazine